Could the Blond Bombshell Fan of "Rules-Based Anarchy" Be the UK's Next Prime Minister?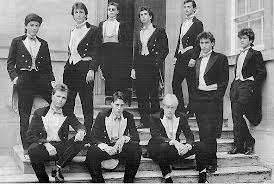 The Olympics has put the Mayor of London, Boris Johnson, back in the spotlight. The blond bombshell of British politics is renowned across the Atlantic as something of a talented buffoon, who is as well known for his humorous media appearances as he is for his strong conservative convictions. Across the river from City Hall in London Johnson's fellow Oxford University-based Bullingdon Club member and one time colleague David Cameron now lives in 10 Downing Street.
This is not how it was supposed to be. Boris Johnson showed immense interest and talent in politics at Oxford, while David Cameron did not get involved in student politics at all.
With many conservatives inside and outside Westminster making their dissatisfaction with Cameron's government clear speculations of a Johnson return to Parliament have become increasingly vocal.
Johnson has himself dismissed such speculations, saying (referring to a recent balls-up at an Olympic event):
How could anyone elect a prat who gets stuck in a zip wire?
He has also put aside speculations in a typically more poetic way, having said that the chances of him becoming Prime Minister as:
only slightly better than my chances of being decapitated by a Frisbee, blinded by a champagne cork, locked in a disused fridge, or reincarnated as a olive.
Despite Johnson's apparent reservations he has a lot going for him.
Johnson has years of experience in the Conservative Party, and unlike most Tories he is respected by the Liberals and Labour. As Mayor he has managed crises, like last summer's riots. He has instant name recognition and would be in many ways be a welcome change to the public face of the Conservative Party.
For those of Reason's persuasion Johnson would be an interesting Prime Minister, having once described his ideal society as one of "rules-based anarchy". While the policies he has implemented as Mayor might be disappointing from a libertarian perspective it is of some comfort that Johnson's heart seems to be in the right place.
Johnson put his conservatism in perspective when disucssing the Republican party with Fareed Zakaria on CNN:
Of course Johnson ever being Prime Minister, assuming he wants the position, is a long way off. He would have to reenter Parliament and work his way to being leader of the Conservative Party, and then win a general election.
David Cameron does not seem too worried about the prospect. Speaking recently the Prime Minister encouraged Johnson to be "as ambitious as possible". I am sure Johnson won't disappoint, whatever he decides to pursue.