China Is Winning the Race to Lose Billions on Solar Power
Cower, America, and consider China's $17.5 billion solar manufacturing debt. How can we compete with that?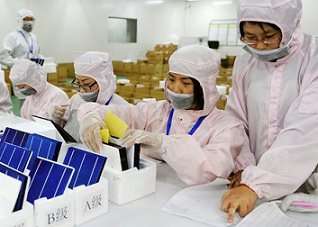 America's failed government-subsidized ventures into solar panel manufacturing have been blamed on that massive Chinese industrial juggernaut, flooding the market with cheaper goods and making it impossible for us to compete. (And not because of poor public investment decisions and lack of accountability due to crony capitalism, no sir!)
So let's turn to Caijing Magazine, reporting directly from China on all matters business, to tell us how well the nation is curbstomping our struggling green energy capitalists here in the free world:
China's top ten photovoltaic makers have accumulated a combined debt of 17.5 billion U.S. dollars so far, leading the whole industry to the brink of bankruptcy, data from U.S. investment agency Maxim Group showed.
Goodness. That's 35 Solyndras!
LDK Solar, the world's second-largest maker of solar wafers, and Suntech Power, the world's largest solar panels producer, are the mostly likely to be headed for bankruptcy, Maxim noted.

LDK reported a net profit loss of 1.08 billion yuan in the first half of this year, with a total liability of 26.7 billion yuan, about 88 percent of its total assets. 2.42 billion yuan of debts will come due in 2013, compared with a cash pile of only 830 million yuan.

With its debt-to-equity ratio at 7.4, the Jiangxi-based LDK has already been in insolvency based on corporate accounting standards in the Europe and the United States, according to Maxim. A bankruptcy filing or restructuring could be needed for LDK, it added.
The White House likes to respond to Solyndra's bankruptcy rather dismissively. It's one of the risks of venture capitalism investment. Sometimes the risk doesn't work out. But we must invest! We must not fall behind Europe and China! But if China can't make it work with its cheap labor, Solyndra is far from an anomaly (as we're already learning from our parade of misbegotten solar failures).
So is the United States learning its lesson? This week the Department of Defense announced it would open up 13 million acres of public land for renewable energy development. How much of that will require government subsidies of manufacturers to actually happen? Or will the government listen to Americans begging them to stop it? (Ha ha, fat chance)