Paleo Diet Lawsuit Hits the New York Times; Can You Advise Your Friends on What to Eat Without Breaking the Law?
The Institute for Justice, a libertarian public interest law institute, is behind an important free speech lawsuit filed back in May, Cooksey v. Futrell. The case challenges the North Carolina's Board of Dietetics/Nutrition's attempts to censor Steve Cooksey, a blogger who believes, and writes about how, following the "paleo diet" (roughly, eating like a caveman, including no processed foods or grains) helped him cope with diabetes. Today the New York Times finally takes notice.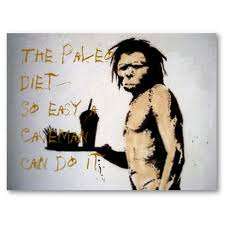 Excerpts:
a North Carolina law says that "assessing the nutritional needs of individuals and groups" without a license is a crime….

In her markup of Mr. Cooksey's site, Ms. [Charla M.] Burill [executive director of the NC Board of Dietetics/Nutrition] underlined examples of unlawful advice, including this one: "I do suggest that your friend eat as I do and exercise the best they can."

Mr. Cooksey reluctantly made the requested changes. Then he filed a lawsuit in Federal District Court in Charlotte, N.C., saying his First Amendment rights had been violated.

"Cooksey's advice," his lawyers wrote, "ultimately amounts to recommendations about what to buy at the grocery store — more steaks and avocados and less pasta, for example."

"The First Amendment simply does not allow North Carolina to criminalize something as commonplace as advice about diet," they added…..
In his lawsuit, Mr. Cooksey, a 51-year-old service manager at a medical equipment company, said that forbidding his "personal, ongoing, uncompensated mentorship of Karen Gale and other friends like her is an unconstitutional prohibition on something that Americans have done since the inception of the United States: share advice among friends, acquaintances, readers or family about what is the healthiest way to eat."
Cooksey tells the Times he actually hopes for a first-round loss, so he can have an eventual Supreme Court decision friendly to his assertions that occupational licensing doesn't trump free speech.
IJ's Bob Ewing had a great piece in The Freeman explaining the case's genesis and the important liberties at stake. Excerpts:
It all started three years ago when an obese man from North Carolina was rushed to the hospital in a near diabetic coma and almost died. Steve Cooksey had been sick for some time. He slowly gained weight over the years, and by 2008 had developed episodic asthma, a chronic cough, and respiratory infections, and was on multiple medications. In February 2009, after being rushed to the hospital, Steve was diagnosed with Type-II diabetes. His doctors informed him he would need insulin and drugs for the rest of his life…

Steve did research on health and diabetes, much of it online. He learned that diabetes is a condition of elevated blood sugar, so he started eating foods that kept his blood sugar low, and he exercised regularly. Specifically, Steve adopted the diet of our Paleolithic ancestors, eschewing sugars, processed foods, and agricultural starches in favor of fresh veggies, fish, meats, eggs, and nuts. He lost 78 pounds, freed himself of drugs and doctors, and feels healthier than ever. In January 2010 Steve started a blog, Diabetes Warrior, to share his story and insights. He soon developed a large readership.
And why you should care, whether you want to go paleo or not:
Violating licensing law can lead to fines, court gag orders, and even jail. According to the government's logic, countless websites, Internet forums, Facebook, and so much more where people share information and offer each other advice on topics such as diet, parenting, and pregnancy are illegal.
IJ's dedicated page for the case.
Past Reason coverage about Cooksey v. Futrell from me and Baylen Linneken.
Paleo-libertarian bonus: are grains to blame for the state as well as diabetes?
IJ's video promoting the case: