Cameras Bring Out the Best in Police Officers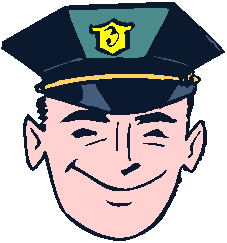 From Carlos Miller's ever-valuable Photography Is Not a Crime comes news of a police officer whose surly personality underwent a This Old House-style renovation once a lens was pointed in his direction. The big surprise, of course, is that more public officials don't undergo such magical transformations when being recorded for posterity, but it's still impressive to see in action.
From Photography Is Not a Crime:
In a three-minute Youtube video, San Rafael police Sergeant Scott Eberle proves why we should never hesitate to record our interactions with police officers.

It started when a photographer, who asked not to be identified out of fear of police retaliation, stepped out of a restaurant July 24 and spotted an ambulance and some type of emergency situation.

Thinking a car had struck a bicyclist, he walked up and started snapping photos with his cell phone from a respectable distance.

He was immediately accosted by Eberle. …

That was when the man switched his phone to video mode and lifted it to the cop's face.

Eberle was suddenly all smiles.

"Are you video-ing or you're taking a picture?" he asks twice.
To which, I should say, the only appropriate answer is: "Whichever one will bring out the brightest, shiniest smile!"
It seems pretty obvious that official behavior is likely to improve dramatically when it's clearly being monitored (and when the folks being monitored don't believe they can do anything about it). And, also, that it's about time we all got ourselves wired for video and audio for when we interact with the thin, blue line.