Bloodthirsty Cineastes Tear Orson Welles from His Throne
A film magazine releases its decennial selections of the world's greatest movies.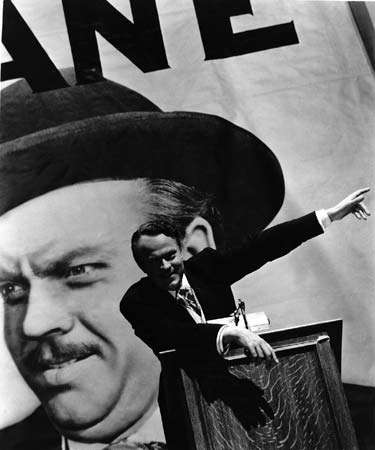 Today Sight & Sound has released two lists purporting to anoint the greatest movies ever made, one based on a poll of critics and the other on a poll of directors. The magazine does this canon-creating exercise every 10 years, which, as I wrote a decade ago, gives its efforts a flavor of rarity and value even as the number of rival lists explodes.
The big news this time around is that Citizen Kane didn't finish first. Citizen Kane had been topping these surveys since 1962, a reign so long that it was starting to damage the movie's reputation: Once you've become the gatekeepers' consensus choice as The Greatest Movie Ever Made, it's hard to live up to first-time viewers' expectations. (Me, I think Kane is a fine film, but I wouldn't even call it the best movie made by Orson Welles, let alone everyone ever.) Now the critics have picked Vertigo as their favorite, relegating Kane to second place. The directors have given the top spot to Tokyo Story, leaving Kane tied for second with 2001.
The Sight & Sound surveys are notorious for snubbing recent releases, and in that regard they've moved backward. Ten years ago the newest movie in either top 10 was Raging Bull, released in 1980. Now it's Apocalypse Now, released in 1979. I happen to think Apocalypse Now is better than Raging Bull, so in a sense I'd call that progress—but really, there must be some movie made in the last three decades that's worthy of the canon, no? In the critics' top 50 you have to go all the way down to #24 before a picture from that period—Wong Kar-wai's In the Mood for Love (2000)—makes an appearance.
Then again, the "canon" being created is a bit of a mirage. When I wrote about the 2002 results, I noted that
Kane actually appeared on only 39 percent of the directors' lists and 32 percent of the critics', indicating that the final tally isn't a consensus so much as an assemblage of those pictures that are somewhat likely to pop up on a personal list of favorites. In the case of Kane—an important film, yes, but how many people really believe it's the best of all time?—its presence may have more to do with obligation than affection.
The one movie in the dueling top tens that I haven't seen is Andrei Tarkovsky's Mirror, and I'm not a big Tark fan so I don't think I'll be watching that one anytime soon. Mirror fans who want to tell me to try it are invited to make their case in the comments.
Bonus link: A few years back, The Cinematheque included Reason's own Tim Cavanaugh and yours truly in a similar survey. You can see our picks here. Advance warning: Tim's list includes Planet of the Apes and mine includes Glen or Glenda. This may be why we didn't get invited to the Sight & Sound party.