DEA Quietly Builds Its Network of License Plate Scanners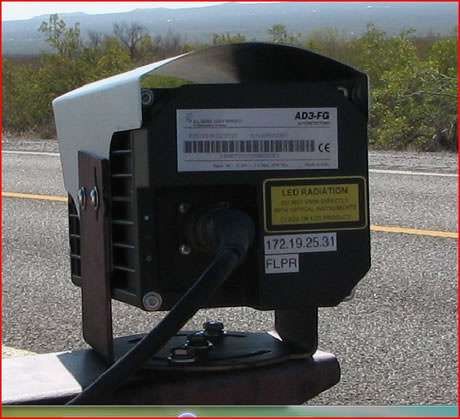 The Drug Enforcement Agency's scheme, along with two Utah sheriffs, to station license plate scanners along I-15 may have foundered under a hail of you-gotta-be-kidding-me raining down from state residents displeased over the prospect of their movements being casually monitored and stored away, but automotive privacy isn't exactly secure. First of all, dozens of local law Utah enforcement agencies, along with the Utah Highway Patrol and the Tax Commission, quietly adopted the nosy devices long before anybody got upset about the DEA's high-profile move. And second … well … the DEA just moved its sights south, to the border, and built on an existing network of cameras in at least four states with no muss or fuss.
Reports the Salt Lake Tribune:
Even before the DEA request, southwestern Utah had a concentration of license plate scanners. The St. George Police Department has its own scanner, while other police forces in that county are on a list of agencies that can borrow a car from the Utah State Tax Commission equipped with scanners. The drug task force that covers Iron and Garfield counties also has a license plate scanner it has used to build cases against people suspected of growing marijuana on public lands.

A Salt Lake Tribune review identified 47 police departments and county sheriffs who use license plate scanners or have permission to borrow the Tax Commission scanner cars. Statewide agencies, including the Utah Highway Patrol, also use the scanners.

The most extensive use of scanners is at BYU, where perhaps every license plate that rolls onto campus is documented.
I guess that will teach the DEA. Next time, they'll just install the cameras quietly so as not to upset the locals.
Whoops! Next time already happened. Reports CaliforniaWatch:
Clusters of what at first appear to be surveillance cameras have begun turning up in recent months on the Southwest border, and while some of the machines are merely surveillance cameras, others are specialized recognition devices that automatically capture license-plate numbers and the geographic location of everyone who passes by, plus the date and time.

The DEA confirms that the devices have been deployed in Arizona, California, Texas and New Mexico. It has plans to introduce them farther inside the United States.

Special Agent Ramona Sanchez, a spokeswoman for the DEA's Phoenix division, said the information collected by the devices is stored for up to two years and can be shared with other federal agencies and local police. She declined to say how many have been installed or where, citing safety concerns.
The "plans to introduce them farther inside the United States" illustrate a point I made not long ago, that "technology has progressed to the point where having identifying data fastened in plain view on a vehicle almost inevitably subjects us to tracking." As the network of cameras grows and becomes interconnected — and the DEA's Chief of Operations Thomas M. Harrigan testified (PDF) last year that "DEA and CBP are currently working together in order to merge existing CBP LPRs at the points of entry with DEA's LPR Initiative" — it's going to become increasingly difficult to travel with any degree of anonymity. The ACLU's Jay Stanley told CaliforniaWatch, "I think over time, we have to expect that they'll become more and more dense, to the point where they might be the equivalent of being tracked by GPS."
It's worth noting that the photo above, and other photos of camera installations, were taken by Terrence Bressi, an Arizona resident who started the Checkpoint USA blog to document his legal battle with the Tohono O'odham Police Department as well as the federal government over his arrest at a suspicionless roadblock operated as a joint fishing expedition by the locals, Immigration and Customs. He has since won his case and been awarded $210,000 — 3,451 days after the incident. Not surprisingly, he's a bit critical of government conduct in the border region, and its overall treatment of citizens.
I wonder if there are any stars next to his name in that license plate database.