Man Tells Police Dispatcher His Mentally Disturbed Brother Is Carrying a Fake Gun, Police Kill Him Anyway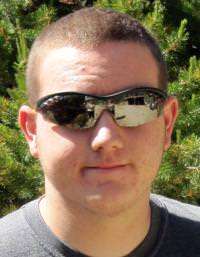 Shortly before 8 a.m. on June 28, police in Broomfield, Colorado, shot and killed Kyle Miller after he brandished a gun at them. Miller was mentally ill. The gun was fake. Miller's younger brother told the police dispatcher both of these facts. For some unknown reason, reports the Denver Post, Broomfield police shot Miller anyway: 
A 911 call recorded just before Kyle Miller was shot to death by Broomfield police officers last week shows that his family warned dispatchers the 21-year-old was armed with an Airsoft pellet gun—not a real handgun.

In response, a dispatcher assured the victim's brother, "Officers are trained in this kind of thing. They're not going to go around shooting people."

Broomfield police received a 911 call around 7:20 a.m. June 28 about a "mentally distraught" man in the Aspen Creek subdivision. While officers were en route, they encountered Miller near the intersection of Aspen Street and Durango Avenue. Miller pointed the pellet gun at police and was shot by officers.

The 911 tape shows that Miller's younger brother, Alex Miller, told police about the Airsoft gun in an attempt to avoid a dangerous confrontation.

"My brother is having a breakdown," Alex Miller told the dispatcher, adding that he woke up to his mother's screams because Kyle Miller was trying to cut himself with a pocket knife. Screams can be heard in the background throughout the 911 call.

On the recording, Alex Miller repeatedly said his brother was carrying an Airsoft gun.

"Can you tell them he has a gun in his hands? Is there any way you can let them know he's got the gun in his hands?" Alex Miller said. "It's not real."

"I know," the dispatcher replied. "The officers are trained in this kind of thing. They're not going to go around shooting people."
According to Miller's mother, her son had schizophrenia, and was upset because he had recently been let go from his job. The shooting is under investigation by an "independent" review board affilated with the Broomfield Police Department. In the meantime, the officers involved (BPD won't say how many, or how many shots they fired) are on paid administrative leave.