Savages
Oliver Stone's dazed confusion.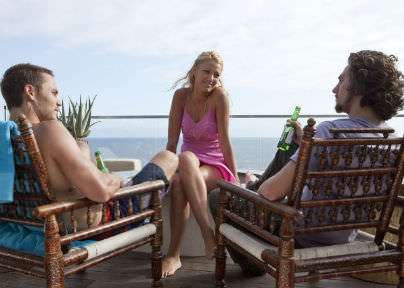 You'd think the discipline of genre would be a tonic for Oliver Stone, quelling his well-known artistic demons. You'd think. But don't think that going into Savages, Ollie's oddly off-the-beat new movie. It's a bloody drug-war story, set in California and Mexico, and it gets underway with style and energy; but clouds of narrative confusion begin to gather early on, and at the end they blot out the sky.
The movie is based on a novel by Don Winslow, who wrote the script with his partner Shane Salerno and—part of the film's problem, possibly—Stone himself. It begins, after some grippingly lurid opening carnage, in the laid-back Orange County surf town of Laguna Beach, where longtime friends Ben (Aaron Johnson) and Chon (Taylor Kitsch, fully recovered from John Carter) live in a luxury pad high above the breakers with their mutual girlfriend Ophelia (Blake Lively), affectionately known as O.
Ben, a neo-hippie botanist and business head, and Chon, a former Navy SEAL, have built a sprawling marijuana empire around a custom-bred strain of high-powered weed. They've made millions. But now the violent Baja drug cartel, headquartered in Tijuana, has made known its intention to expand across the border and move in on Ben and Chon's operation. It has emailed some gruesome video footage to demonstrate what could happen to them if they resist. Gentle Ben, who has used part of his fortune to finance good works in Africa and Asia, is not averse to getting out of the marijuana trade; but Chon, with his extensive collection of weaponry and squad of on-call combat buddies, is not a man to be pushed around. When the cartel kidnaps O as a negotiating pawn, he knows, to Ben's dismay, what has to be done, and a crooked DEA agent named Dennis (a blustery John Travolta) is dragged in to help them do it.
Stone sets up the early Laguna Beach scenes with his customary skill: idyllic shots of sand, sea, and surfers scored to shimmering guitar chords, and braced with a jolt of sweaty sex involving Chon and O (whom we later see joined in carnal exertion by Ben). Complications arise with the introduction of the cartel principals: a team of envoys led by a lawyer named Alex (Demián Bichir); a vicious enforcer called Lado (Benicio Del Toro, recessively magnetic); the powerful dealer Elena (Salma Hayek in a black Bettie Page wig, for some reason), who Skypes into the story from Tijuana; and another drug boss called El Azul (Joaquin Cosio). The relationships among these characters are unclear at first, prefiguring a number of future confusions—a pair of malevolently tender scenes with Lado and O, and an attack signal from Chon to his heavily armed cohorts—that don't pay off.
The movie's accumulating bewilderments might be due to the heavy editing required to reduce it to a manageable length (scenes shot with Uma Thurman as Ophelia's mother were eliminated altogether). It's too bad Stone was determined to allow way too much time for the movie's idiotic conclusion, which provoked snorts of disbelief at the screening I attended and which retrospectively trashes all that's come before it. Savages has some strong performances, and it could have been a tight, punchy little crime thriller. But it gropes for coherence throughout, and at the end the director simply runs it off the rails. You wonder if Stone was sampling his own product.
Kurt Loder is a writer living in New York. His third book, a collection of film reviews called The Good, the Bad and the Godawful, is now available. Follow him on Twitter at kurt_loder.