ICC Lawyer States Obvious: Qaddafi Son Can't Get Fair Trial in Libya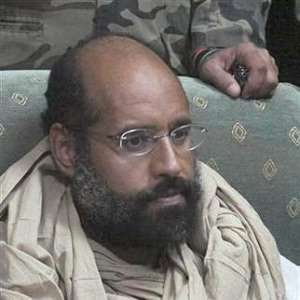 A lawyer sent to Libya by the International Criminal Court to assist in the defense of Saif al-Islam, the eldest son of the former Libyan strongman Col. Moammar Qaddafi, has been released after being detained for nearly a month on suspicion of spying. "The rights of my client, Mr Saif al-Islam, were irrevocably prejudiced during my visit," said the attorney, Melinda Taylor, who will file a report next week with the ICC on her visit and detention. Think Africa Press' Charles Okwir has more details on how fair a trial al-Islam might expect in Libya.
Saif al-Islam, along with his father and brother-in-law, was charged last year by the International Criminal Court while his father's government, which al-Islam was expected to inherit, collapsed under pressure from rebel groups backed by NATO air power. The charges stemmed from alleged abuses committed by Libyan forces allegedly under orders by Col. Qaddafi and his son at the start of the rebellion last year.
Col. Qaddafi's government, naturally, rejected the legitimacy of the international court; meanwhile, the rebels who constituted the post-Qaddafi government used the arrest warrant issued by the ICC to detain Saif al-Islam but insist on trying him in Libya. The new Libyan government has been largely unresponsive to the ICC, which still technically has to approve Libya's application to try al-Islam itself.
Col. Qaddafi, of course, was never technically taken into custody. Though he had an outstanding ICC arrest warrant, he was assaulted, sodomized and finally shot and killed by the rebels who captured him. The ICC has not filed charges related to the incident, even though the manner of Qaddafi's death at the time was condemned by human rights agencies and even Hillary Clinton called for an investigation (though not before laughing about the incident). President Obama, not a particular fan of due process, pointed to Qaddafi's extrajudicial killing as a warning for other iron-fisted rulers, a 21st century "ever thus to tyrants" of sort.
Libya holds its first post-Qaddafi election this weekend.
More Reason on Libya