Another Signpost on the Way to Somali Statehood; Thousands Arrested in Counter-Terror Operation in Mogadishu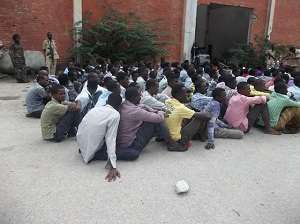 The East African country of Somalia has not had an internationally recognized government since that of Siad Barre collapsed in 1991. Since then, a number of statelets have arisen across the country, most notably that of Somaliland. More than a decade of internecine conflict in the former capital of Mogadishu followed the collapse of the government. A transitional federal government was formed in 2004, with a president and a prime minister and all the trappings of a central government.
In 2006, the Islamic Courts Union (a Sharia confederacy of sorts) took control of much of the southern part of the country, including Mogadishu, ousting the transitional government's forces. The extremist youth wing of the ICU, Al-Shabab, piqued American interests and set the stage for renewed U.S. involvement when Ethiopia intervened in Somalia, backed by the African Union and U.S. air power, to help the transitional government push back into Mogadishu. In 2007, the transitional government's president, a former army colonel, was able to enter Mogadishu for the first time as president.
In 2009, a former ICU leader was elected president of the transitional government, yielding a declaration of war from the by then fully radicalized Al-Shabab (the group formally joined Al-Qaeda this year). In his war powers report to Congress last month, President Obama acknowledged for the first time U.S. military operations in Somalia, something that had previously been reported by the Washington Post, going back at least a year.
And now, a local Somali radio report indicates a burgeoning security state apparatus in Somalia. From RBC Radio:
The largest mass arrest operation ever in Mogadishu has been launched today by the national security agency and the police forces of Somalia's transitional government searching Al Shabaab members, RBC Radio reports.

The operation which started early on Thursday morning continued until the afternoon as more than 3,000 people were arrested, the National Security Agency NSA confirmed…

 "This morning as we were going out to the school a uniformed forces came to our house they arrested two brothers of mine." Asha Ibrahim Jibril, a resident in Huriwa district told RBC Radio.

She complained  that most of those arrested were teenagers who have no links to Al-Shabaab but the NSA officials rejected to comment on the allegations of indiscriminate jailing.
More Reason on Somalia