"Drafting the Declaration of Independents": Nick Gillespie Talks Libertarianism with Arthur Kade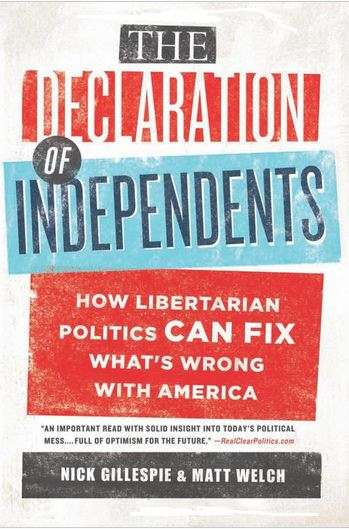 Late last week, I sat down with rogue interviewer Arthur Kade to talk about life, liberty, and the pursuit of book sales for the just-released paperback edition of The Declaration of Independents: How Libertarian Politics Can Fix What's Wrong with America, the book I coauthored with Matt Welch. The paperback edition comes with updates and a new foreword in which Matt and I discuss the Occupy movement and developments since the book came out a year ago. And we deal with the pervasive rejection by readers of our optimistic take on the future, too.
The book is on sale now. Costs just $10.19 on Amazon!
From Kade's intro to the 14-minute Q&A, filmed at Reason's DC HQ:
Here "The King Of Kamelot" sits down with one of America's most unique voices, Nick Gillespie, in the beautiful Reason Magazine offices in Washington DC, right after an epic appearance on HBO's Real Time With Bill Maher where he debated Rachel Maddow, Mark Ruffalo, and Bill Maher, to talk about what it means to be a Libertarian, his new book "Declaration Of Independents", his thoughts on one of the most epic debates on a talk show you will ever see when he squared off on Bill Maher, my interviews with Libertarian Presidential Candidate Governor Gary Johnson and Penn Jilette, the current political climate and election, the Supreme Court decision to keep Obamacare, why he believes Mitt Romney is a dud, the reason he is holding Broccoli during the interview, and soo much more!  Enjoy Kade Nation!!
Make sure to check out Kade's website and YouTube page, which includes dozens of other interviews with folks such as Penn Jillette, Gary Johnson, Olivia Newton-John, and Will Smith.