Lift the Ban on the Domestic Dissemination of U.S. Propaganda
It's time for American citizens to see the government-funded propaganda directed at other countries.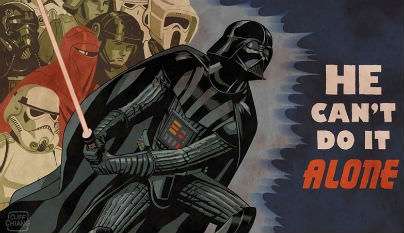 Last month, the U.S. propaganda industry dodged a bullet. In a naked bid to expose the American public to American diplomacy, two Congressmen—Adam Smith (D-Wash.) and Mac Thornberry (R-Texas)—added an amendment to the House's version of the 2013 National Defense Authorization Act to end a longtime ban on the domestic dissemination of public diplomacy information prepared by the State Department and the Broadcasting Board of Governors. (Descended from the now-defunct U.S. Information Agency, the latter is the independent federal agency that oversees Voice of America, the Office of Cuba Broadcasting, RFE/RL, Radio Free Asia, and the Middle East Broadcasting Networks.)
When the House's bill passed on May 18, Buzzfeed reported that the amendment would "legalize the use of propaganda on American audiences" and "give sweeping powers to the government to push television, radio, newspaper, and social media onto the U.S. public."
Reaction from the last bastions of independent discourse was swift and strong. "Nothing speaks more urgently to the creeping fascism of American politics…" University of Michigan history professor Juan Cole declared on his blog Informed Comment. "You don't want most of the DoD types providing information to us, because it won't be in any way balanced."
"Allowing the US government, and especially the military and State Department, directly to target American citizens at home would leave them as vulnerable as people around the world already are to the long arm of American disinformation," echoed UC Irvine Middle Eastern history professor Mark Levine at Aljazeera.
Just when it seemed as if the thin line of American mass media was about to be breached by a punishing torrent of federally produced mind-control agitprop—see, for example, this recent Voice of America article about the travails of Africa's "hippie chimps," or this RFE/RL video clip publicizing a Prague-based demonstration by the Russian feminist punk collective Pussy Riot in Prague to protest the plight of their comrades who were jailed in Moscow after staging an anti-government protest in a Russian Orthodox church—a few freedom-minded patriots stepped in to save us all from such heavy-handed, totalitarian brain-washing. As Buzzflash reported on May 24, the Senate Armed Services Committee marked up its own version of the bill—and its version did not include anything like Smith and Thornberry's amendment. Thus, it appears unlikely the U.S. is changing its policy on propaganda dissemination this time around.
Still, one can see why Cole and others were so worried about a potential onslaught of such stuff. The U.S. government underwrites the production a huge amount of international news, public affairs information, propaganda, and award-winning Persian-language satire. In fact, there are at least four federal departments and agencies with the mandate to create and distribute such content. There's the State Department's Bureau of International Information Programs (IIP), a 276-person agency with a 2013 budget of $137 million that publishes and distributes booklets like Being Muslim in America and licenses old PBS series to deploy in foreign markets.
There's the State Department's Bureau of Public Affairs, a 248-person agency with a 2013 budget of $43.5 million that tweets out links to press releases in Farsi and Urdu and arranges all-expenses-paid press junkets in U.S. cities for foreign journalists with the purpose of producing news stories on pre-selected topics like "Immigration and Border Issues" and "Climate Change and Food Security" for the media outlets they work for.
There's the Pentagon, which, according to a February 2012 USA Today article, has spent as much as $580 million annually in recent years on leaflets, billboards, radio and TV programming, and other forms of "information operations" in Afghanistan and Iraq. And finally there's the Broadcasting Board of Governors, which on a 2012 budget of $751 million produces radio and TV programming in 100 countries and 59 languages. With more than 50 overseas bureaus, nearly 4,000 employees, and 1,500 stringers, it's one of the world's largest news organizations. Voice of America alone produces more than 1,500 hours of radio and TV programming in 43 languages each week, "dwarfing the weekly output of the four major U.S. television networks combined" according to its Fiscal Year 2013 budget request .
The American public pays for all of these efforts, and yet thanks in part to a piece of legislation called the Smith-Mundt Act, it has little exposure to the federal government's public diplomacy efforts. Originally drafted in 1948, Smith-Mundt authorized the State Department to "provide for the preparation, and dissemination abroad, of information about the United States, its people, and its policies, through press, publications, radio, motion pictures, and other information media, and through information centers and instructors abroad." But it also held that the State Department could not disseminate such information in the United States, its territories, or possessions.
As Adam Weinstein points out at Mother Jones, this prohibition may have derived in part from congressional worries that the State Department, ostensibly "chock full of Reds" at the time, would use its new powers to subject Americans with communist notions disguised as news. According to Indiana journalism professor Emily T. Metzgar, however, the primary purpose of Smith-Mundt was to limit the State Department's power to compete with American broadcasters on their own turf. "While contemporary discussions of Smith-Mundt often allude to concerns about the spread of government-produced materials being circulated domestically as the primary concern of the original legislation, a review of congressional debate surrounding Smith-Mundt indicates a more intense interest in ensuring the viability of privately-owned broadcasting operations whose owners feared unfair competition from the U.S. government," she writes in "Public Diplomacy, Smith-Mundt, and the American Public," an essay that appears in the January 2012 issue of Communication Law and Policy.
In fact, Metzgar writes, a 1967 advisory committee opined that there was "nothing in the [1948] statutes specifically forbidding" the distribution of Voice of America and other State Department public diplomacy materials to American audiences, and it "was not until 1972 that the ban in effect today was formalized in an amendment sponsored by Senator J. William Fulbright."
Technology has made it easy for U.S. citizens to circumvent Smith-Mundt's ban on the domestic distribution of the federal government's international media efforts. Voice of America and other BBG outlets all have websites, as do many of the Pentagon's efforts too. At its website Central Asia Online, you can learn about a black metal band from Tajikistan that aims to make you question every assumption you've ever held about Tajikistanese black metal bands. (Sample quote: "If you're high on drugs or alcohol, you can't possibly play good music. Our band is resolutely against any 'dope'—we never allow ourselves a drop of alcohol at either rehearsals or concerts, and it's the same way with drugs.") At Al-Shorfa, there are articles about militants poisoning schoolgirls in Afghanistan and video dramatizations depicting "children robbed of their innocence."
The latter stuff is exactly what watchdogs like Juan Cole worry the government would start brainwashing its citizens with if Smith-Mundt is amended. But as it turns out, Smith-Mundt has never actually prohibited the Pentagon from distributing propaganda domestically; it only applies to the State Department. And the State Department—or more specifically, the BBG, which has explicitly advocated to repeal Smith-Mundt—wants to lift the ban so it can more easily distribute its materials to domestic media outlets, scholars, public officials, and other entities that express an interest in obtaining this information.
If the ban were lifted, State Department materials would no doubt be deployed toward propagandistic ends domestically. But lifting the ban would also increase the transparency of the government's public diplomacy efforts. While Smith-Mundt has limited the BBG's domestic footprint in ways it would like to eliminate, it has also created a veil of secrecy around federal public diplomacy efforts that has benefited it, the State Department in general, and the Pentagon too. In part because American citizens rarely see the materials these agencies produce, the agencies have been able to operate with very little government oversight and accountability.
In the case of BBG, specifically, it itself reports that this has led to a "system that traps resources in inefficiency and duplication." According to its own assessment, it is "currently configured largely as [it was] in the 1980s, with substantial resources devoted to shortwave broadcasting" even though shortwave is now only "vital in half-dozen countries." It only this year decided to quash AeroMarti, a costly platform that broadcasted TV programming from a plane flying over Havana for more than two decades even though few if any Cubans actually watched it. Opening up the homefront to the BBG and the government's other public diplomacy operations might expose us to some propaganda, but it would also expose these operations to the intense scrutiny of millions of American eyeballs. In this age of creeping democracy, when institutions of all manners are struggling to make themselves more transparent, more accountable, more accessible to the constituencies that power them, such scrutiny is long overdue.
Contributing Editor Greg Beato writes from San Francisco.