Damon Root on the Libertarian Legal Movement vs. ObamaCare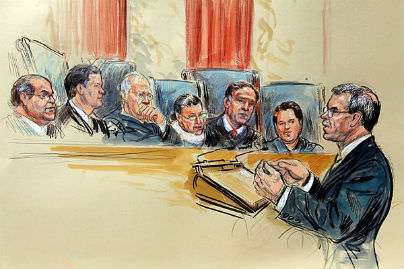 President Barack Obama was all smiles when he signed the Patient Protection and Affordable Care Act into law at a special ceremony in the East Room of the White House on March 23, 2010. "With all the punditry, all of the lobbying, all of the game playing that passes for governing in Washington," Obama declared, "it's been easy at times to doubt our ability to do such a big thing, such a complicated thing."
It turns out there was a much better reason to doubt the federal government's ability to do such a big, complicated thing: the Constitution of the United States of America. Barely two years after the president's health care overhaul was enacted, his solicitor general, Donald Verrilli, stood before the nine justices of the U.S. Supreme Court and tried desperately to salvage the law. When the clock ran out on Verrilli's time, Obama and his supporters faced a challenge they hadn't expected: Their sweeping conception of federal authority had to contend with a robust libertarian legal movement that insisted Congress may not exercise powers the Constitution does not grant. In the cover story from Reason's July issue, Senior Editor Damon Root explains how the libertarian legal movement helped put ObamaCare on trial.