Al Qaeda Officially Jumps Shark, Fails in Bid to Assassinate Irish Pop Duo Jedward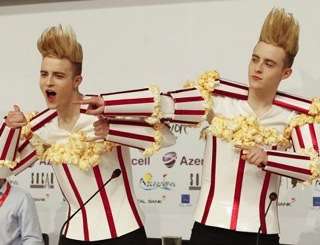 Like Friendster and MySpace, al Qaeda used to be really hot on the Internet. But the latest news shows the Islamofascist terror group rapidly joining icons of a past age of irrational exuberance in the dustbin of history. (Say hello to Wendy the Snapple Lady and Newt Gingrich for all of us, why don't you?)
Via Frances Martel at Mediaite comes word of yet another foiled al Qaeda plot, this one involving Jedward, the most objectionable band of Irish siblings since the Clancy Brothers washed ashore a thousand years ago.
The latest failure from the terror group, which seems to barely be scotch-taped together at this point, comes from Baku, Azerbaijan, where authorities foiled a plot to bomb Europe's biggest pop music festival and take out, among many others, overcaffeinated pop music hair confection Jedward….

From the Belfast Telegraph:

"Forty people linked to Al-Qaeda have been arrested over a plot to kill Jedward at the Eurovision song contest.

"Security services in host city Azerbaijan also recovered a major arms cache in the operation in which a number of key personnel and property were also targets, including Azeri President Ilham Aliyeve, the £100million Baku Crystal Hal and other major hotels which housed acts and officials connected to the song contest.

"Azerbaijan has been targeted in a number of terror plots in recent months and Eurovision bosses confirmed they had spent hours devising a detailed emergency strategy in the event of an attack."
More—including a possible Reason connection (some time back, I averred on Fox News Red Eye with Greg Gutfeld that it would "be people like Jedward who will liberate the Arab world")— here.