Justin Amash Defends Congress' Only Libertarian Seat
Democrats (and at least one moderate Republican) are taking aim at the "next Ron Paul."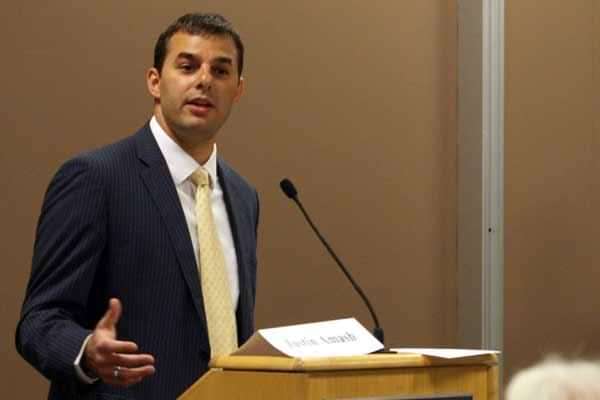 Rep. Justin Amash (R-Michigan), who rode to Congress in 2010 on the national wave of outrage over Obamacare and government spending, could face a tough challenge to his seat this November.
Amash scored a commanding win in a five-way Republican primary in 2010, and went on to win easily in the general election. Michigan's Third Congressional District was heavily Republican and had a history of favoring libertarian Republicans like Amash.
Now the district has been redrawn with more Democrats, and Amash's principled voting record in the House has alienated some members of his own party. Amash, who is described by many (including Reason.com) as the next Ron Paul, is looking at a potentially tough reelection fight in Michigan.
Democrat Steve Pestka, like Amash, has very deep roots in Michigan's Third District.
Pestka spent most of his adult life in the public eye, as an assistant district attorney, elected county official, state representative, and most recently as a Michigan Circuit Court judge. During that time he practiced law on the side but eventually stepped down as a judge in 2009 to get more involved with his father's real estate business. Now, three years later, the socially conservative Democrat is jumping back into the public eye and running for Congress.
Pestka's campaign excites Michigan Democrats. "Pestka may have started late but he is definitely on people's radar," said Todd Cook of Mainstreet Strategies, a Michigan consulting firm.  
"A lot of Democrats here in the state definitely see this seat as a potential pickup," said Joe DiSano, Cook's partner at Mainstreet.
The most recent fundraising numbers for the candidates in the Third show how Pestka's run is picking up steam. Though he only entered the race in early March, Pestka raised over $218,000 in his first month. (That figure includes a personal loan to the campaign of $70,000, and substantial giving by a handful of people named Pestka.) Pestka has $195,509 on hand and $78,468 in debt.
Meanwhile, Amash's war chest is light. In the first quarter of 2012 the freshman congressman raised $139,451. He has $200,551 on hand with $150,000 in campaign debt. 
Amash does have the comfort of not facing a primary challenge. Pestka is being challenged by Trevor Thomas, a former local TV news producer and aide to former Michigan Governor Jennifer Granholm. (In order to skew its influence in the presidential primary, the Motor State now holds votes in February and August [pdf], a practice that, counting the November general election, will require voters to turn out to the polls no fewer than thee times this year.)
Thomas entered the race late, too, and raised slightly over $100,000, of which only $2,012 is from Thomas himself. Thomas has attacked Pestka for his positions on abortion and, in particular, a 2001 vote on funding for Planned Parenthood. He has picked up some attention from prominent liberal blogs nationally for his positions but he has some local Republican backers, too.
Former Kent County Republican Party Chairman Bob Eleveld is backing Thomas because of his pro-choice stance on abortion and his dissatisfaction with Amash.
"Amash is not loved by the party. He's a strong Ron Paul guy, he's really a libertarian in Republican clothing," said Eleveld, a member of Thomas' finance committee and self-described moderate Republican.
When asked whom he would back in a race is between pro-life Amash and pro-life Pestka, Eleveld said he wasn't sure what he would do.
"Maybe an independent will get in," he said.
Other Michigan Republicans are, as one would expect, brushing off the Democratic challenges to Amash.
"He might do some things that are untraditional but it is tough to see this really become a race.  If he faced a primary opponent it would be a different story," said Stu Sandler of Decider Strategies, a Michigan consulting firm.
There were rumblings that Amash would face a challenger in the Republican primary, but none emerged.
"Most Republican primary challenges come from the right, not the center," said Sandler.
The only polling on the race shows Amash up on Pestka by 11 percent but when those surveyed were presented with more information that gap closed to two percent. 
Cook Political Report rates the race as competitive but rates it "Likely Republican" with a partisan voter index of +6 in favor of the GOP. 
"Pestka will make him work hard and not take anything for granted but this race isn't going anywhere. This contest is one step below a foregone conclusion. Still, Amash has not done enough to squash the talk of this race being competitive," said Jake Davison of Advantage Associates, a Lansing based consulting firm.
The National Republican Congressional Committee said that they were watching the race but were not overly concerned. The bulk of their resources in Michigan are currently being deployed in the Upper Peninsula, helping reelect freshman Congressman Dan Benishek in the First Congressional District.
"It's definitely on the watch list," said NRCC deputy communications director Andrea Bozek.