State Department: Mexican Security Forces Engaged in "Unlawful Killings, Forced Disappearances, Instances of Torture"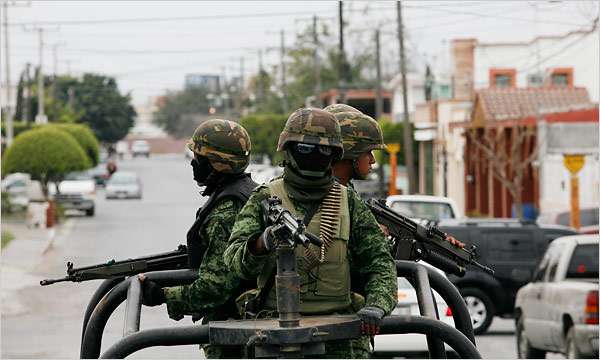 A new report from the U.S. State Department reveals that Mexican police and the military have "engaged in unlawful killings, forced disappearances, and instances of physical abuse and torture" while carrying out the U.S.-backed war on drugs. 
The report is yet another reminder that no matter what Drug Czar Gil Kerlikowske and other members of the Obama administration may say in the lead-up to the 2012 presidential election, the war on drugs is not over. 
The report also contradicts a statement made last year by Drug Enforcement Administration Chief Michele Leonhart, who told the Washington Post, "It may seem contradictory, but the unfortunate level of violence is a sign of success in the fight against drugs….[cartels] are like caged animals, attacking one another."
Here are some of the most disconcerting findings from the State Department's report: 
The Mexican government has been murdering people and lying about it: 
On June 17, 2011, Joaquin Figueroa Vasquez was killed in a high-speed chase in a joint operation by state and federal security forces in the state of Veracruz and presented as an alleged TCO member. The autopsy report stated that the cause of death was a bullet wound to the head. Figueroa's family claimed that this wound and the others that Figueroa sustained were evidence of torture and a subsequent execution-style killing. 
In March 2010 soldiers killed two students at Monterrey Technological University. Despite a subsequent National Human Rights Commission (CNDH) report that determined through a thorough investigation that guns were planted at the scene and evidence was tampered with, no arrest had been made at year's end.
In June 2010 the CNDH concluded that the Secretariat of National Defense (SEDENA) altered the location in which Martin and Bryan Almanza Salazar, ages five and nine, respectively, were shot and killed in April 2010 to create the impression that the shots occurred during a firefight with a criminal gang. The CNDH concluded that the children had been killed by direct fire from army troops on the road from Nuevo Laredo to Reynosa, Tamaulipas.
On March 26, municipal police in Ciudad Juarez, Chihuahua, allegedly detained Juan Carlos Chavira, Dante Castillo, Raul Navarro, and Felix Vizcarra. Family members of the victims found their abandoned pick-up truck on March 27 in a tunnel far from where they had been detained. On April 14, the dead bodies of the four missing men were discovered. 
The Mexican government has been torturing people: 
During the year (2011) the CNDH received 1,626 complaints of cruel or degrading treatment and 42 torture complaints, compared with 1,170 complaints of cruel or degrading treatment and 10 torture complaints in 2010. In some instances U.S. citizens reported receiving beatings, suffocation, and administration of electric shock when in the custody of arresting authorities.
Instances of cruel, inhuman, and degrading treatment were reported to occur in public mental health institutions, including the use of unconsented lobotomies on persons with disabilities.  
Corruption among Mexican local police is rampant: 
The CNDH reported that police, particularly at the state and local level, were involved in kidnapping, extortion, and in providing protection for, or acting directly on behalf of, organized crime and drug traffickers. Local forces in particular tended to be poorly compensated and directly pressured by criminal groups, leaving them most vulnerable to infiltration. Responsibility for investigating federal police criminal abuse falls under the purview of the PGR or the Secretariat of Public Administration, depending on the type of offense.
On September 1, 2011 federal police arrested a state police officer in connection with the August 25 arson attack on a casino in Monterrey that left 52 people dead. The unidentified state officer was one of several men seen in a surveillance camera video arriving at the casino in a caravan. Some of the men rushed in to set the building on fire in what authorities suspected may have been retaliation for the casino's owners refusing to pay an extortion demand to organized criminals. 
The State Department is not the first to report that Mexican security forces, which have been armed and trained by U.S. security forces, are committing acts of violence against civilians. According to a December 2011 Reuters story, "The human rights commission of the local state of Chihuahua registered 1,250 complaints of torture, forced disappearances and extrajudicial executions by the army during its two-year deployment in Ciudad Juarez. It counts 400 similar grievances against the federal police who moved in when the soldiers were pulled out. These numbers document only 20 percent of the violations taking place, it estimates."