Postal Service Could Cut Saturday Delivery in Two to Three Years, No Guarantees (Like Priority Mail)…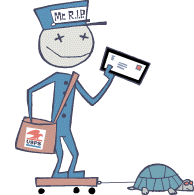 …but new legislation allowing such a possibility sweetens that deal with $900 million for "excess postal facilities" and gives "the Postal Service nearly $11 billion to offer buyouts and early retirement incentives to hundreds of thousands of postal workers and to pay off its debts."
Mail volume is down, says the Post Office, from 203 billion delivered annually a decade ago to just 168 billion last year. The Senate bill passed easily but raised the ire of Rep. Darrell Issa (R-Calif.), who's got a competing bill that may or may not see the light of day.
From the Wash Post:
"While the Postal Service is actually trying to shutter some facilities it does not need, the bill forces the Postal Service to keep over one hundred excess postal facilities open at a cost of $900 million a year," Issa said.

Issa's bill, which has yet to be scheduled for a vote in the House, allows USPS to end Saturday mail deliveries, streamline postage rates and require postal workers to pay the same health insurance premiums as federal employees. It also establishes a financial control board to overhaul postal finances and a separate commission inspired to recommend which postal facilities should close.
Reason on the Postal Service (including a preview of the vote noted above).
Larfs about the impending end of the Postal Service's hold on American tax subsidies, circa 1998:
As the fourth-class box office of mailman-oriented cinematic bombs like Greg Kinnear's Dear God and Kevin Costner's The Postman suggest, perhaps the only person in America fully satisfied with the Postal Service was Theodore Kaczynski, who no doubt disdained FedEx's and UPS' easy-to-use computer-tracking software and who seemed to be in no particular rush to see his packages delivered to the correct address.
Take it away, Newman: