Kurt Loder Reviews The Cabin in the Woods and Lockout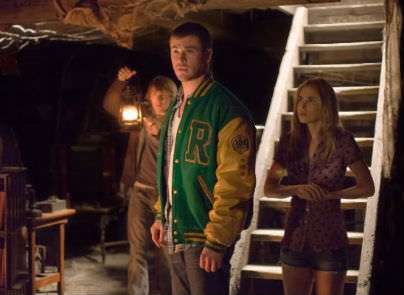 When two guys, two girls, and a nerd set out to party in a creepy cabin deep in the woods, you know in your weary bones what's going to happen. The only question, at this late date in the history of teen slasher movies, is whether you care. Joss Whedon and Drew Goddard, the genre-wise writers of The Cabin in the Woods, are aware of that, and they've used this mossy premise to set up a different sort of picture—not so much a parody of the familiar concept as a very clever extension of it. The result, writes Kurt Loder, is distinctively smart and funny, and pretty brilliant.
The funniest thing about Lockout, on the other hand, is the notion that it is based on an "original idea" sprung from the brow of the alarmingly prolific French writer-director-producer Luc Besson. The movie is a brazen scavenging of such dystopian forebears as Escape from New York, Outland, and Demolition Man, among a number of others that spring instantly to mind. Any claim to originality is risible. The picture is a helping of happy trash that asks only to be tolerated, however briefly. We can accommodate that desire with appropriate brevity.