Register Today for Reason's Alaska Cruise, August 11-18, 2012!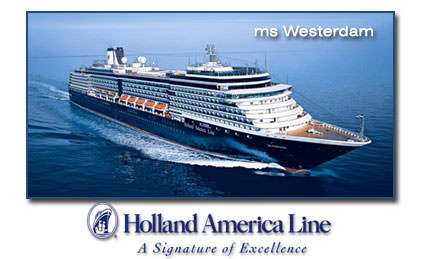 Reason will take to the high seas in 2012 for our second annual cruise—and this time, we'll explore the magnificent Gulf of Alaska August 11-18 aboard Holland America's luxurious Westerdam!
If you caught the buzz about last year's Reason's cruise, you know that this is a chance to spend time getting to know some of the libertarian world's most original thinkers. Speakers on this year's Reason cruise include Reason Editor in Chief Matt Welch, Reason.tv Editor in Chief Nick Gillespie, pioneering UC Santa Barbara evolutionary psychologists Leda Cosmides and John Tooby, alternative American historian Thaddeus Russell, Reason Associate Editor and Obamacare-debunker Peter Suderman, and Reason economic columnist and Mercatus Center senior research fellow Veronique de Rugy.
The Westerdam is renowned for its warm hospitality, larger-than-average staterooms, outstanding food, and world-class service. As part of Holland America's luxury Vista class, this is one travel experience that you won't soon forget.
For more information, or to register today, visit www.reasoncruise.com