Ten Years of "If You See Something, Say Something"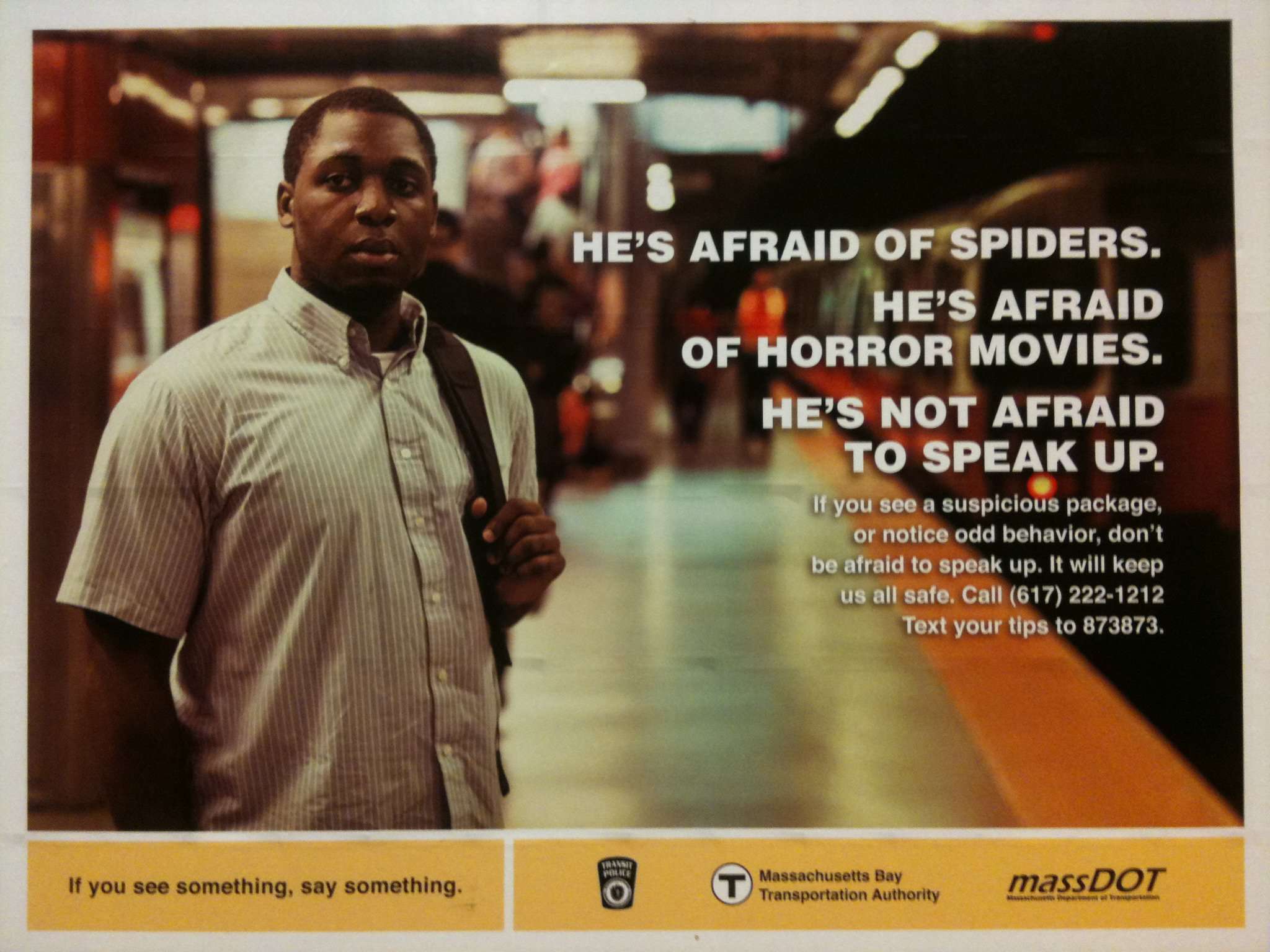 Shortly after September 11, 2001, the advertising firm Korey Kay & Partners pitched the Departments of State, Justice, and the newly created Homeland Security on an ad campaign to make travelers more aware of potential terrorists threats, "but none expressed interest in using the work," Adweek reported in January 2002. "It will therefore remain a creative exercise."
The feds would eventually change their minds about Kay's "creative exercise." Today, the slogan "If you see something, say something" graces mass transit hubs across the country as well as DHS-funded coffee cup sleeves. The slogan has outlived color-coded terror alerts, the Iraq War, the Yellowcake myth, Sadam Hussein, Osama bin Laden, and cigarette lighter bans. In honor of "If you see something, say something," Reason presents you with a brief timeline of its conception and current use:
January 2002: Korey Kay & Partners unveils "If you see something, say something"
Allen Kay shares five text-only ads with Adweek. In addition to the slogan "If you see something, say something," the ads read, "More catastrophic bombings and biological warfare are imminent terrorist threats. Not just for the United States, but the entire world. Let's have no more surprises," as well as "There are thousands of terrorists in this country. You can start to stop them. If you notice anything suspicious, report it. Immediately." Kay tells Adweek that the Departments of Justice, State, and Homeland Security passed on his ad campaign.
December 2002: The Metropolitan Transportation Authority (MTA) adopts "If you see something, say something"
Twenty-four randomly selected New York subway riders are taken to an "undisclosed location" and shown several slogans designed by Kay's company for a new public safety campaign. Among the slogans that do not test well, according to the Times, are "Be Suspicious of Things That Look Suspicious" and "If You See a Package Without a Person, Don't Keep It to Yourself." The winner among the test subjects is "If you see something, say something." Kay's slogan begins to appear in New York's subway and bus system.
March 2003: MTA expands "If you see something, say something" to include photographers
Transit officials send an internal memo to MTA employees encouraging them to report people who take photos while riding the New York subway system. "Law enforcement would tell you terrorists like to case out their locations. We just want to make sure no one is trying to case us," a transit source tells the New York Daily News.
March 2004: Reports of suspicious objects in New York skyrocket
Sixteen months after the adoption of "If you see something, say something," reports of suspicious packages in the MTA system skyrocket. This is widely attributed to the March 11 bombing of the Madrid train system, in which bombs left in unattended knapsacks killed 191 people and wounded 1,800. Prior to the Madrid bombings, reports of suspicious packages ranked below suicides and maintenance as causes of delay, not even cracking the top 40 reasons. After the Madrid bombings, suspicious packages become the number one cause of delays in the MTA system.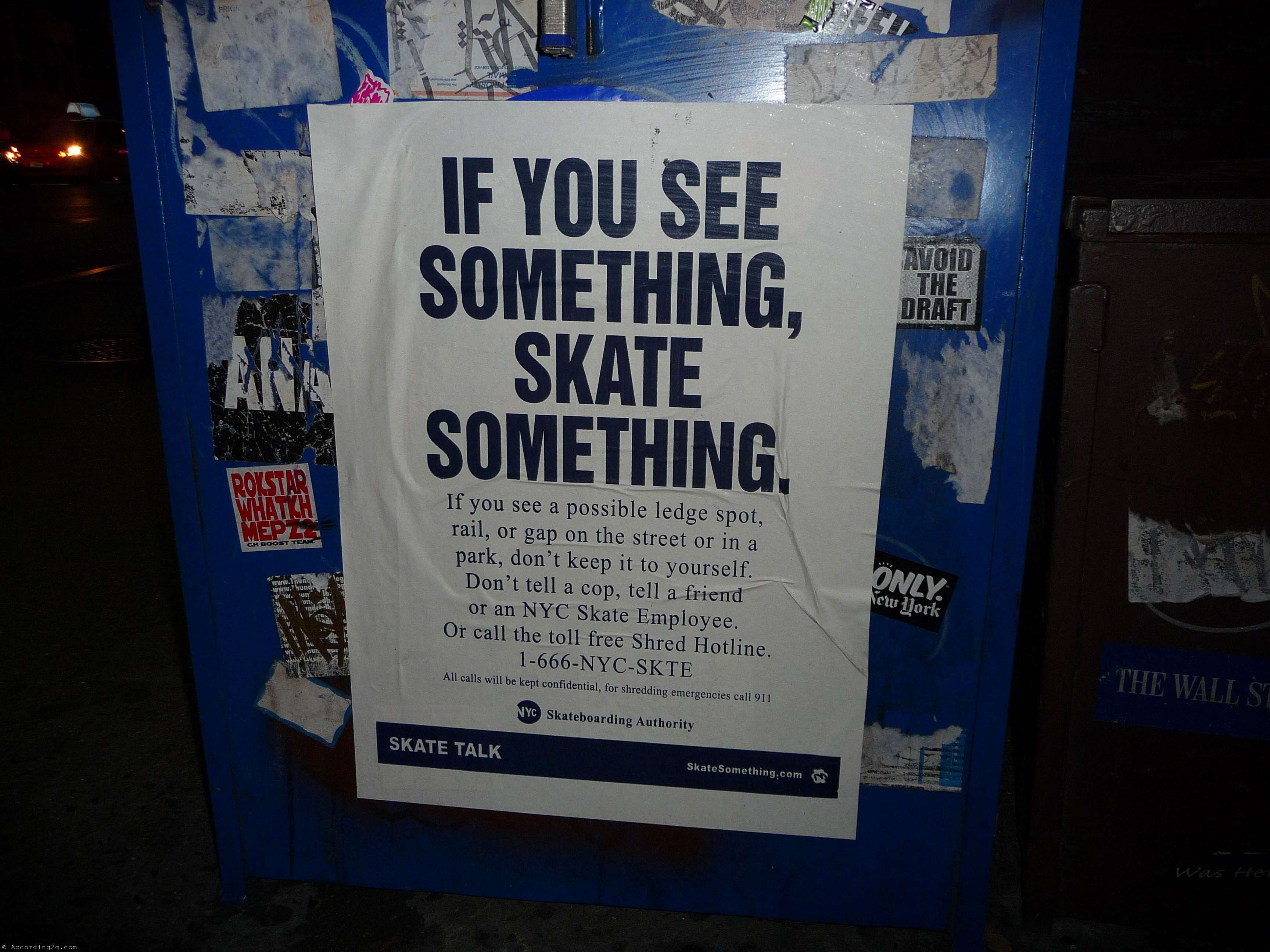 June 2004: Korey Kay & Partners adds images to "If you see something, say something"
Due to reports that riders in Madrid had seen the unattended knapsacks that caused the March bombing, but said nothing, the MTA decides to add images to the "If you see something, say something" campaign. According to The New York Times, these images include "a greasy paper bag under a train seat, an elegant black briefcase on a platform, [and] a bulging blue garbage bag stashed under a station bench." The words ''Be suspicious of anything unattended" are added to the posters.
August 2004: The Statue of Liberty reopens for the first time since Sept. 11, 2001
The Statue of Liberty reopens with monitors that show emergency exits. At the bottom of every monitor is a scrolling message: "If you see something, say something."
July 2005: DHS raises the threat level to Orange after the London tube bombings, and the slogan spreads to Chicago
While Kay's ads are still officially contained to the MTA system, the slogan spreads to Chicago via Mayor Richard M. Daley, who tells Chicagoans, "If you see something, say something." In D.C., home of the nation's third most populous public transit system, riders are given yellow cards encouraging them to report "unusual behavior, unattended packages, anything that seems suspicious."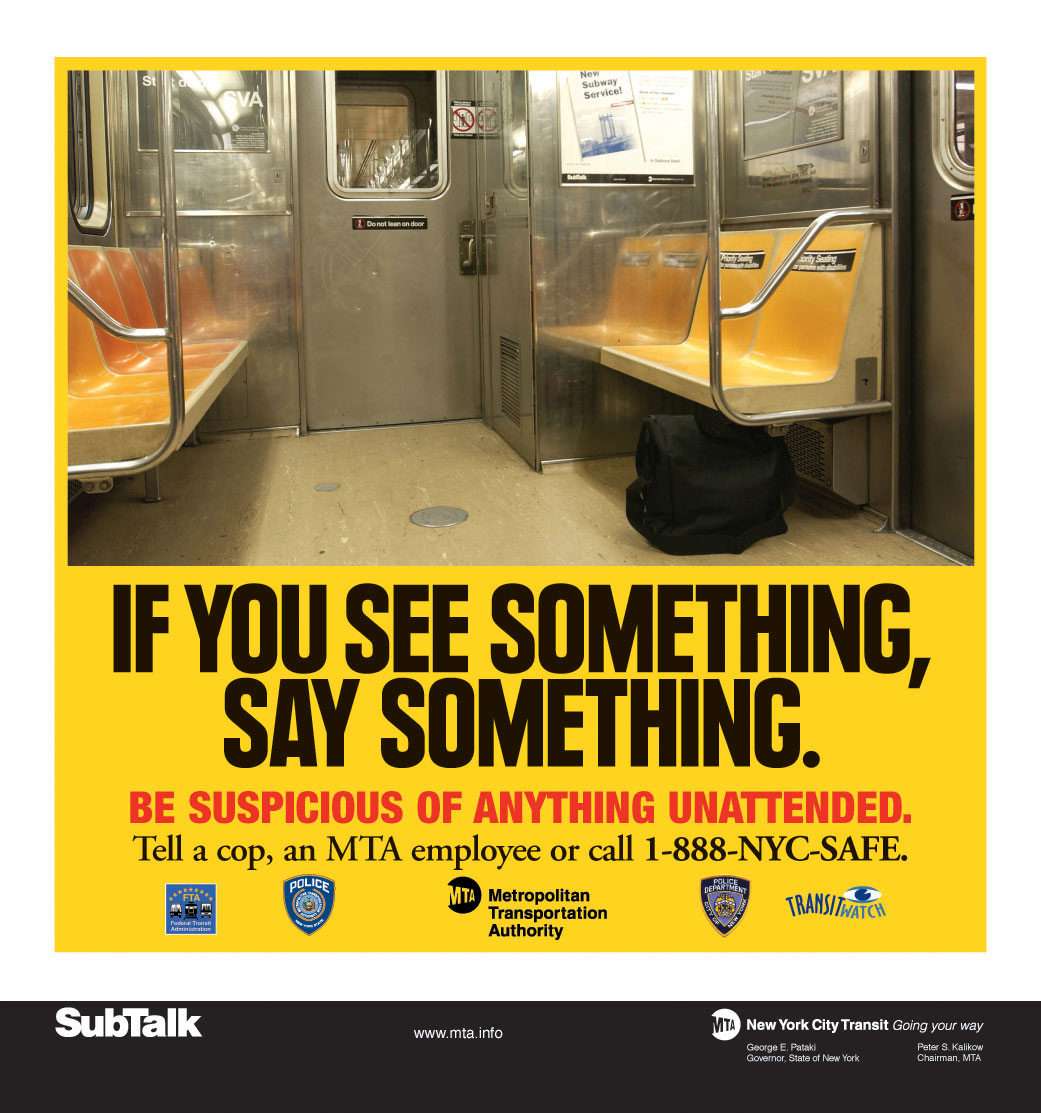 October 2005: Bloomberg drops the phrase twice in a presser on terrorism
Mayor Michael Bloomberg shares reports of a "specific threat" to New York. "The FBI has recently shared with us a specific threat to our subway system. Commissioner Kelly, and FBI Assistant Director, Mark Mershon, will go into more detail, but I wanted to assure New Yorkers that we have done and will continue to do everything we can to protect this city. We will spare no resource, we will spare no expense," Bloomberg says. "We have put extra protective measures in place now however, that are noticeable to the public, and we do want the public's help, as I said. If you see something, say something. Then the professionals will make an assessment. We ask that the public remain vigilant. If you see something, say something. Call 311, or 911 if it's an emergency."
May 2007: The Coast Guard uses the slogan in its National Safe Boating Week campaign
As part of its National Safe Boating Week campaign, the USCG releases materials that read, "Boaters should be vigilant and keep an eye out for (1) their fellow mariners and (2) anything that looks unusual on the water. 'If you see something…say something.'"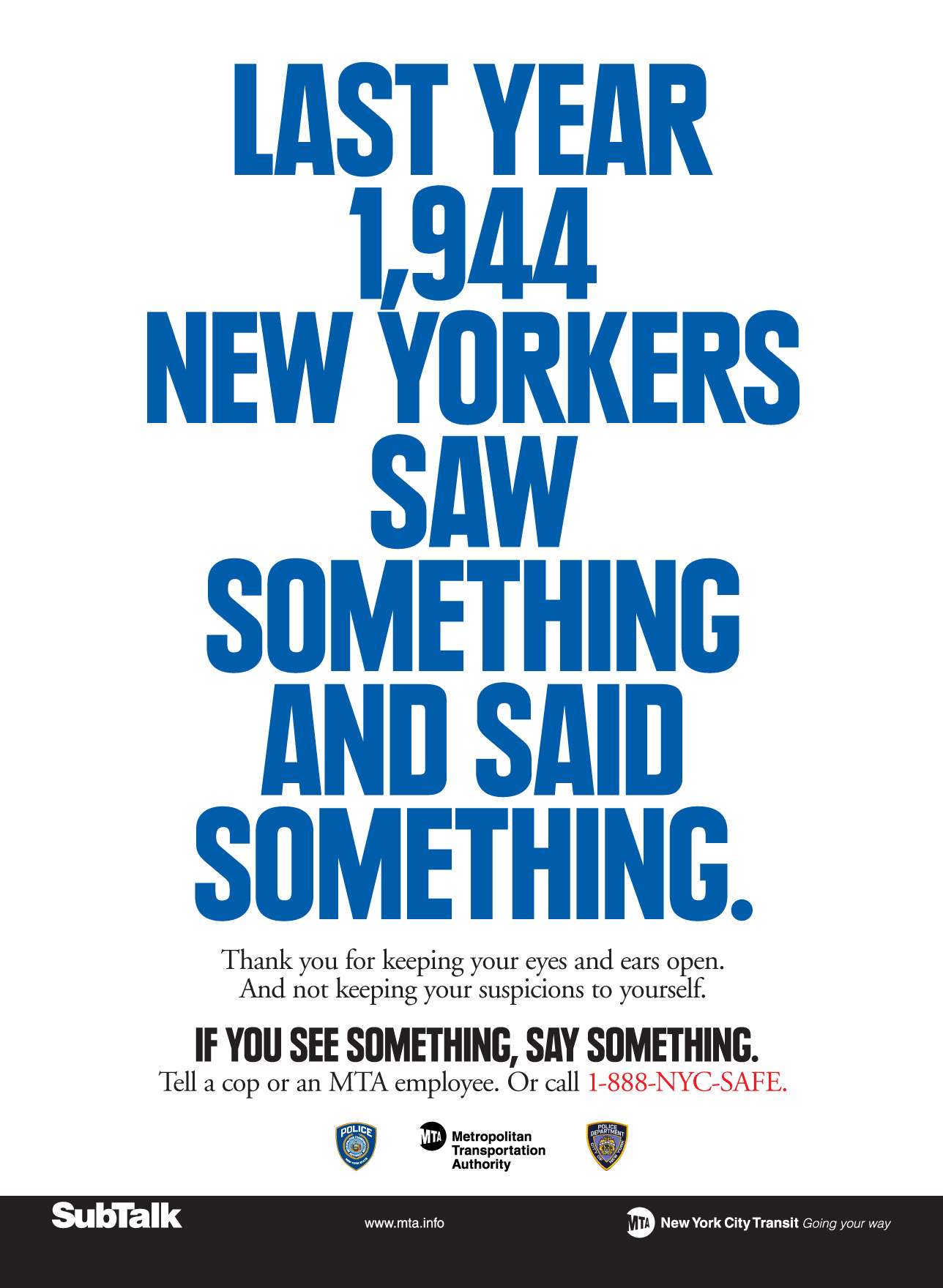 2008: "If you see something, say something" goes viral
In January, Roger Webb, president of University of Central Oklahoma in Edmond, tells Oklahoma's Campus Life and Safety and Security Task Force that it should adopt the MTA's slogan. "If someone's behavior is strange or if there's a package that's in a place that it shouldn't be, tell someone."
In June, MIT's conference on "The Future of Civic Media," journalist Alyssa Wright says, "If you see something, say something -- and say it different."
In July, Tigers outfielder Gary Sheffield tells ESPN, "A lot of people feel like I've been doing it my way for 20 years. But like I say, `If you see something, say something.' I'm not one of those guys who's not approachable. I try to take advice from everybody else."
In October, monologist Mike Daisey performs If You See Something Say Something, a send-up of the modern security state, at Joe's Pub and Public Theater in New York.
July 2010: MTA licenses "If you see something, say something" to the Department of Homeland Security
Eight years after it turned down Kay's slogan, DHS licenses his campaign from the MTA, calling it "a simple and effective program to raise public awareness of indicators of terrorism and violent crime, and to emphasize the importance of reporting suspicious activity to the proper state and local law enforcement authorities."
DHS instructs citizens to report "only suspicious behavior and situations (e.g., an unattended backpack in a public place or someone trying to break into a restricted area) rather than beliefs, thoughts, ideas, expressions, associations, or speech unrelated to terrorism or other criminal activity."
Among the agency's partners in the new advertising campaign are Walmart, the NHL, the NFL, the U.S. Tennis Association, Mall of America, various states and municipalities, and The American Hotel and Lodging Association.
DHS also rolls out a Spanish language version of the ad: "Si Ve Algo, Diga Algo."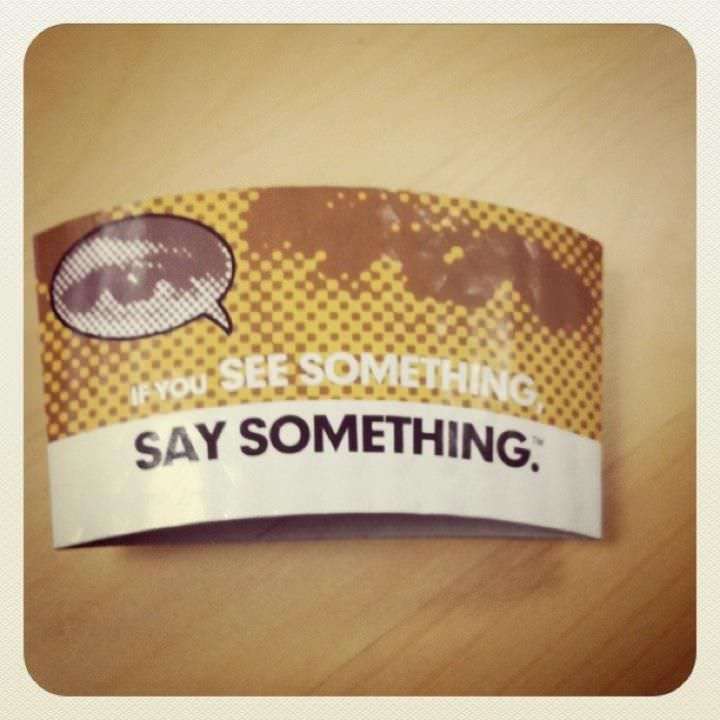 September 2011: The slogan appears on coffee sleeves in D.C., Maryland
With funding from DHS, the Maryland Transit Administration prints the Kay's slogan on coffee sleeves distributed in D.C. and Maryland. According the The Daily Caller, "the sleeves are distributed by BriteVision Media, a company that sells ad space on coffee sleeves and then provides the sleeves free to restaurants and cafes."
February 2012: The slogan appears at the Super Bowl
"At a major national event like the Super Bowl, security is a shared responsibility and everybody has a role to play in identifying and reporting suspicious activities and threats," reads a statement from DHS Secretary Janet Napolitano. "Our partnership with the NFL on the 'If You See Something, Say Something™' public awareness campaign during the Super Bowl is a critical part of our efforts to ensure the safety of every employee, player and fan."