Rush Limbaugh vs. Rage Against the Machine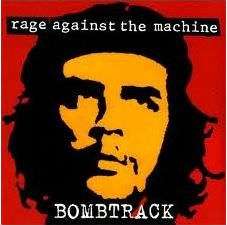 It's no surprise that Tom Morello, the Harvard-educated guitarist for the left-wing rap-metal band Rage Against the Machine, isn't a fan of conservative talk radio host Rush Limbaugh. It is a little surprising, however, to learn that Limbaugh sometimes uses Morello's music on his nationally-syndicated show. Let's just say that this fact didn't come as a pleasant surprise to Morello, as Rolling Stone reports:
Tom Morello of Rage Against the Machine is the latest rock star to demand that Rush Limbaugh stop using his music on the air. "Rush Limbaugh played "Sleep Now in the Fire" as a bumper on his show today," Morello told Rolling Stone last night. "Our response: 'Hey Jackass, stop using our music on your racist, misogynist, right wing clown show."
No response yet from Limbaugh. But as Rolling Stone goes on to explain, the talk radio host is free to ignore Morello's complaints:
Though artists can certainly make their feelings known about the use of their music on the radio, they have no real legal power in actually enforcing demands to cease and desist. Radio networks are covered under blanket agreements for "public performance" of the songs in major publishing catalogs, and so long as those networks pay their licensing fees, they are allowed to play whatever they like within the bounds of FCC regulations.
You can read the full story here.
Morello is no stranger to Reason's pages. Back in October 2000, Brian Doherty examined the "strange politics of millionaire rock stars," including Morello and his Rage Against the Machine band mates, who Doherty memorably described as "work-for-hire employees of one of the great cogs in the global capitalist machine, the megaconglomerate Sony, which wholly owns and distributes Rage's music and even is a co-owner of the group's publishing." Read all about that here.
Personally, I preferred it back when the singer from Rage Against the Machine was still hanging out with Hare Krishnas.