Kiribati Buying Land from Dictatorship to Flee Rising Sea Levels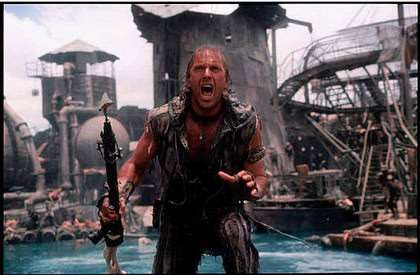 Faced with the threat of rising sea levels, the Pacific island nation of Kiribati is negotiating to buy land in Fiji to relocate its citizens. Many of Kiribati's atolls are just a few feet above sea level, so it's particularly climate sensitive. Endorsed by Kiribati President Anute Tong, over 6,000 acres (around 9 square miles) on Fiji's second largest island would be sold for $9.6 million.
Kiribati has around 113,000 people living on its islands, while Fiji is relatively larger, with 860,000 residents. In an interview with the state-run television network Fiji One, President Tong wanted the relocation, if necessary, to be gradually phased in:
We don't want 100,000 people from Kiribati coming to Fiji in one go. They need to find employment, not as refugees but as immigrant people with skills to offer, people who have a place in the community, people who will not be seen as second-class citizens.
Leaving aside the fact that I-Kiribati would be fleeing one Pacific island nation for another, Fiji is currently an autocratic state. In 2006, Commodore Josaia Voreqe "Frank" Bainimarama led a military coup and has since become prime minister. According to Human Rights Watch:
Over the past five years, Fiji's military government has aggressively curtailed Fiji Islanders' rights to freedom of speech, press, peaceful assembly, and association, the groups said. The military and police have arbitrarily arrested and detained human rights defenders, journalists, and labor and religious leaders.
In addition, Bainimarama has restricted religious freedom, most prominently Methodists. (His coup was widely criticized by Methodist leadership, while over one-third of Fijians are Methodist). While Bainimarama technically lifted martial law earlier this year, he has replaced it with emergency laws that are just as restrictive. Human rights activists argued this merely "cuts and pastes" from martial law.
Instead of relocating to Fiji, Kiribati should consider Seasteading, autonomous communities that would based in international waters. It's not that far-fetched. President Tong actually wanted to build floating islands off the coasts of Kiribati. The proposed price tag would have topped $2 billion. But since Kiribati's entire GDP in 2011 was $612 million, Tong wanted the international community to pay for it. They declined.
In addition, the Seasteading Institute has actually toyed with the idea. After all, seasteads are "geographically flexible." This would be mutually beneficial for both parties: Seasteading would get first adopters and I-Kiribati can live in a place that isn't sinking or ruled by an autocrat. In addition, the islands do have some capital to invest in Seasteading. In 1956, the Gilbert Islands established the Revenue Equalisation Reserve Fund, to save money from mining guano, which was used in fertilizer. In 2008, the fund was worth $400 million. (So yeah, Kiribati literally made money from shit.)
For more on obscure island nations, climate change, and Seasteading, here's me on St. Kitts and Nevis and the Maldives.