Ron Paul Supporters Aiming for an Electoral Coup in Vermont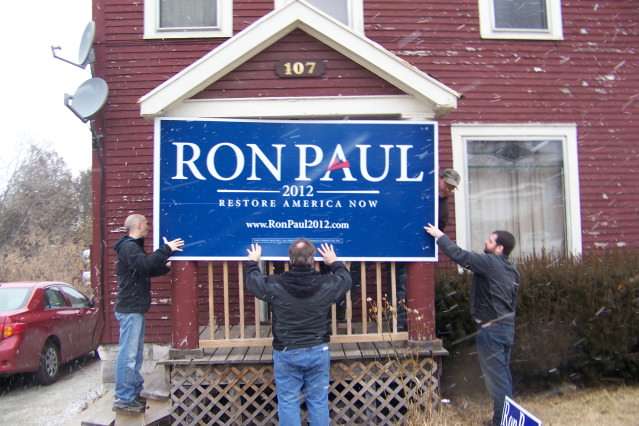 Rutland, Vt.—"You know what sucks about this winter? There's been little snow and the ground is hard making it really difficult to put yard signs in the ground," says Steven Howard.
Howard and a group of Ron Paul supporters are taking a break from canvasing Rutland neighborhoods to put up a massive Paul sign on a vacant house owned by a local supporter. As soon as Howard detaches the two-part sign big fluffy snowflakes start falling from the sky at a pretty rapid clip. I put my Red Sox winter cap on to cover my head.
"How do you think we'll do this year?" one of the volunteers asks.
"I'll be happy if we make the playoffs, get a wild card spot. The divison is out of the question," I answer.
The Paul effort in Vermont has a similar attitude. Paul supporters recognize that it's unlikely they will win the state but they still believe they have a chance to be competitive. In order for Paul to get any delegates in the Green Mountain State on Super Tuesday, he needs to crack 20 percent statewide according to Vermont Republican Party rules. Howard, an attorney and one of the main Paul organizers in the state, is taking every step he can to make sure that happens and to improve on Paul's dismal third-place Vermont finish in 2008.
After setting up the massive sign, Howard and his wife, Maria, head back to the parking lot outside the Godnick Adult Center to meet up with other volunteers Howard organized to walk neighborhoods earlier in the day. Most had positive responses to share and were done for the day but Howard and Vietenam veteran John Kennedy, 66, decided to go one more street before the day was over. They split the street and conducted what they called "knock and run" canvassing, an abbreviated form of door-to-door campaigning. "I think we've hit probably two-thirds of Rutland already," says Howard after briefly talking to a voter and handing her a flyer.
Paul supporters have divided the state into northern and southern regions, with Jessica Bernier taking the northern half of the state and Howard taking the southern portion of the state. While these grassroots efforts have been aided by the formal Paul campaign's recent ad buys in the state, for the most part Howard and Bernier have handled all of this on their own.
"They started giving us lists last Thursday and we were into Voter Tracker by the end of the week. It's good to have because it gives you a starting point when you are canvasing but we don't have any ID'd Ron Paul voters in this state right now, so we have no way to run a true Get Out The Vote effort," Bernier says.
"I did way more canvasing in New Hampshire than I have in Vermont because we had more lists there. It's a totally different animal, a totally different demographic here. We're much more liberal and much more libertarian here," she added.
The Paul campaign's official coordinators from New Hampshire, Jordan Brown and Jared Chaicoine, have been active in Vermont since the end of efforts in New Hampshire, much to the surprise of Howard and Bernier. Both Vermont activists said that they did not expect the official Paul campaign to get involved in Vermont at all, but are certainly happy with the campaign's contributions.
"It's been a total surprise, we were thinking about this back in October. We were not counting on them coming in and helping us," says Howard.
In 2008, soon-to-be Republican nominee John McCain won the state with 71 percent of the vote. Mike Huckabee and Paul finished far behind with 14 percent and 6 percent, respectively. The only current polling data available on Vermont shows Mitt Romney with 34 percent, Rick Santorum with 27 percent, Paul with 14 percent, and Newt Gingrich with 10 percent.
Howard is optimistc about Paul's chances on Super Tuesday and thinks he will definitely hit 20 percent.
"I think there's a chance he could take the state," he says.
Correction: This post has been updated with a quote from Bernier on Paul's GOTV efforts in Vermont.