The Real Housewives of Arab Thugocracies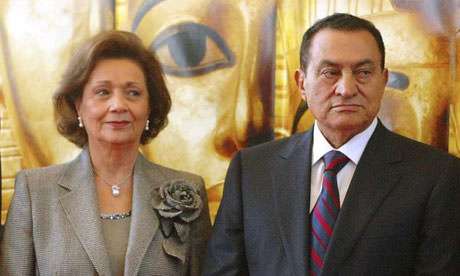 Interesting story in the Guardian (UK) about the first ladies of the countries involved in the Arab Spring. Contra Hillary Clinton, these dames are most certainly Tammy Wynette "Stand by Your Man" types, as they participate fully in the ill-gotten gains of their despotic lesser halves.
Among the worst offenders, writes Angelique Chrisafis are
Leila Trabelsi, the politically ambitious wife of Tunisia's Zine El-Abidine Ben Ali, was easily the most detested, a monstrous symbol of nepotism and corruption, whose embezzlement of state wealth made Imelda Marcos's nearly 3,000 pair of shoes seem trifling….She and her relatives are accused of ordering people from their homes if they wanted their land, confiscating their businesses if they thought they could profit from them. Trabelsi took archaeological artefacts to decorate her palace rooms while her daughter and son in law flew in ice-cream from St-Tropez for dinner parties….

Suzanne, the half-Welsh wife of Egypt's Hosni Mubarak, benefited from a fortune of billions in a country where around 40% of the population lives on less than £1.20 per day. She is now being investigated alongside her husband on allegations of crimes against the state and has relinquished disputed assets worth nearly £2.5m. Before the Egyptian revolution, whole newspaper pages were "allocated" to cover Suzanne's "charitable engagements" and "actions" for women….Suzanne Mubarak would jet off to meet Arab leaders' wives to talk about women's issues while independent women in Egypt were being heavily repressed….
But the real dark star of the region is Asma al-Assad, wife of Syrian leader Bashar al-Assad, who is currently killing hundreds if not thousands of citizens in an almost-certain-to-fail attempt to keep his day job. Because she was born and raised in London and is attractive, the compliments in the Western press gushed like blood from the head of a protester in Damascus. French Elle anointed her "the most stylish woman in world politics," Paris Match dubbed her "an eastern Diana," and the Huffington Post was so enthralled by her "All-Natural Beauty" that they ran a slideshow about her. "In a region where the women love to cake on their make-up," said HuffPo's Nour Akkad, "it is very refreshing to see the wife of President Bashar al-Assad with very little on."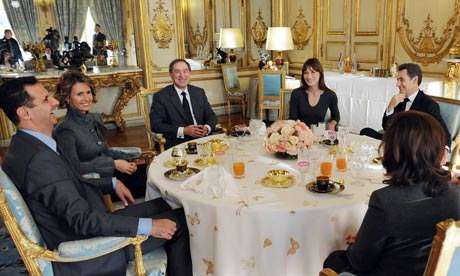 Last year, American Vogue ran a sickening article about her that's since been pulled off the mag's website (read it here). Titled "A Rose in the Desert," it is the worse form of celebritoid journalism:
Asma al-Assad is glamorous, young, and very chic—the freshest and most magnetic of first ladies. Her style is not the couture-and-bling dazzle of Middle Eastern power but a deliberate lack of adornment. She's a rare combination: a thin, long-limbed beauty with a trained analytic mind who dresses with cunning understatement. Paris Match calls her "the element of light in a country full of shadow zones." She is the first lady of Syria.

Syria is known as the safest country in the Middle East, possibly because, as the State Department's Web site says, "the Syrian government conducts intense physical and electronic surveillance of both Syrian citizens and foreign visitors." It's a secular country where women earn as much as men and the Muslim veil is forbidden in universities, a place without bombings, unrest, or kidnappings…
The story does acknowledge that there's something deeply disturbing about a place where the son of the last ruler can win election with 97 percent of votes cast, but it never wants to forget that working-mom Asma's life is not so very different from those of Vogue readers in the good old United States:
Asma al-Assad empties a box of fondue mix into a saucepan for lunch. The household is run on wildly democratic principles. "We all vote on what we want, and where," she says. The chandelier over the dining table is made of cut-up comic books. "They outvoted us three to two on that."

A grid is drawn on a blackboard, with ticks for each member of the family. "We were having trouble with politeness, so we made a chart: ticks for when they spoke as they should, and a cross if they didn't." There's a cross next to Asma's name. "I shouted," she confesses. "I can't talk about empowering young people, encouraging them to be creative and take responsibility, if I'm not like that with my own children."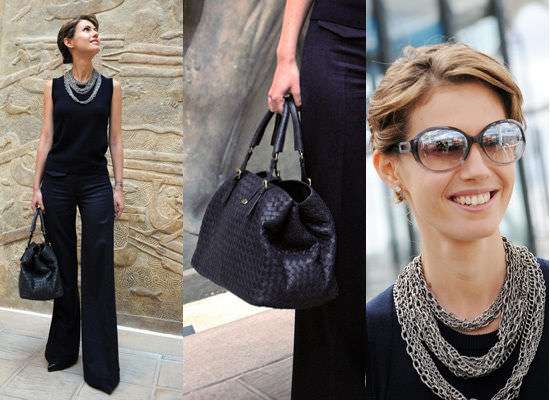 As Chrisafis points out in her Guardian story, Asma has been relatively silent since the Vogue story, though her office recently sent a press release to a British paper that reads in part:
"The president is the president of Syria, not a faction of Syrians, and the first lady supports him in that role…. The first lady's very busy agenda is still focused on supporting the various charities she has long been involved with and rural development as well as supporting the president as needed. These days she is equally involved in bridging gaps and encouraging dialogue. She listens to and comforts the families of the victims of the violence."
Chrisafis notes that "just before [the release appeared], she had appeared grinning from ear to ear with two of her children to support her husband as he spoke at a pro-regime rally."
You go, girl. And please take your husband with you.