Fox Business Network Cancels Judge Andrew Napolitano's Freedom Watch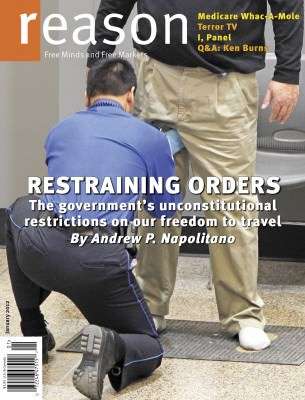 Bad news, freedom fighters! Judge Andrew Napolitano's Freedom Watch, the best damned daily libertarian news & argument show in the history of television (name a better one!), has gotten the axe from Fox Business Network. From the press release:
FOX Business Network (FBN) will debut a new primetime schedule featuring encore presentations of the channel's top post-market programs, announced Kevin Magee, Executive Vice President of the network. Starting February 20th at 8 PM/ET, viewers will find additional airings of The Willis Report (5PM & 8PM/ET), Cavuto (6PM & 9PM/ET) and Lou Dobbs Tonight (7PM & 10PM/ET). The new lineup will replace FreedomWatch with Judge Andrew Napolitano, Power & Money with David Asman and Follow the Money with Eric Bolling. […]

In making the announcement Magee said, "Neil Cavuto, Lou Dobbs and Gerri Willis are the most trusted names in business news and this new lineup affords FOX Business viewers additional access to their no-nonsense take on the day's financial events. We look forward to Judge Napolitano, David and Eric continuing to make significant contributions to both FOX Business and FOX News. In addition to daily branded segments, each of them will be showcased throughout future programming on both networks."

Currently one of the leading judicial analysts on television, Judge Napolitano will continue his role on both FOX Business and FOX News, providing key legal insights surrounding the growing intersection between Washington and Wall Street. […] Stossel, hosted by John Stossel, will continue Thursdays at 10PM/ET.
Well, boo (except for that last sentence).
Freedom Watch was a great friend to Reason, of course, but more importantly to anyone worried about the size and growth of government in all aspects of our lives. And despite (or maybe because of?) the show's stronger-than-usual ideological/philosophical content, the judge knew (and knows!) how to run a perfectly respectful debate with people who disagree strongly with him, which is a rarity in the cable world. Television needs more spaces like that.
Read Judge Napolitano's cover story in the January 2012 issue of Reason. Here's Nick Gillespie interviewing the judge in November:
And here's the judge speaking at a Reason event in 2007: