Iranian Parliament Summons President as Economy Sputters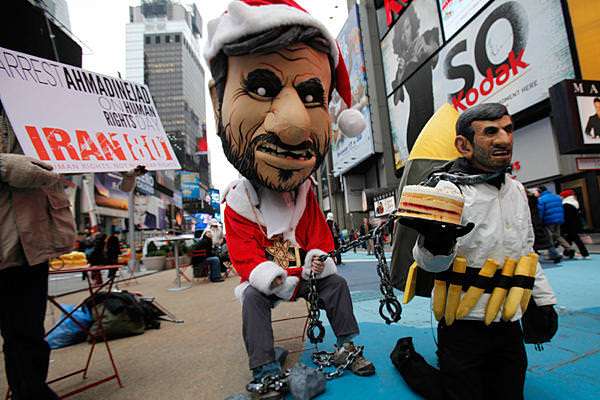 Iranians have been feeling the crunch of foreign sanctions on the country's economy. Prices for gold and American dollars are way up. Reuters reports food shortages and word of mouth carries stories of the frantic stockpiling of meat, rice, and other staples. According to one Iranian service employee, "We know they want to pressure us so we rise against our government, but we are not in a position to do that." The New York Times reports:
Ordinary Iranians complain that the sanctions are hurting them, while those at the top are unscathed, or even benefit. Many wealthy Iranians made huge profits in recent weeks by buying dollars at the government rate (available to insiders) and then selling them for almost twice as many rials on the soaring black market. Some analysts and opposition political figures contend that Mr. Ahmadinejad deliberately worsened the currency crisis so that his cronies could generate profits this way.
The Iranian parliament appears to have caught wind of some of these grievances. On Tuesday the deputy speaker announced a successful vote to summon President Mahmoud Ahmadinejad. Al Jazeera reports that he will face "questioning over a long list of accusations including mismanagement of the nation's economy." Though Parliament has the constitutional power to call the president in for questioning, no president has been summoned since the inception of the current regime in 1979.
Meanwhile, other branches of the Iranian government have been demonstrating increasing anxiety in the run-up to the March 2 parliamentary elections. As I've previously noted, Supreme Leader Ayatollah Khamenei has stepped up arbitrary arrests of journalists, activists, and foreign nationals. The judiciary has been upholding their death sentences. Khamenei has warned against protests surrounding the March elections more than once, urging voters and losing candidates not to repeat the uprisings of 2009:
The last issue relating to the elections: The authorities should not ignore the conspiracies of the enemies against the elections. Those who do not receive enough votes in the elections should also be aware and should not be fooled like those who did not get any votes in 2009. They should not be deceived… Don't blame the elections, don't help the enemy, and an atmosphere of conflict and hopelessness should not be displayed in the campaign so we can, God willing, have a good election. [Emphasis added]
It is unclear to which enemy Khamenei is referring, but given the context, it's likely he is referring to civil unrest and not his other main preocuppation, Western influence. Ahmadinejad's allies have been campaigning in the boonies to secure some kind of success for themselves in the election. This gesture of summoning Ahmadinejad for questioning may be the existing Parliament's attempt to influence the outcome of the elections.
Read more on Iranian foreign relations, inflation, and questionable election strategies.