Ron Paul Limps to Third in Nevada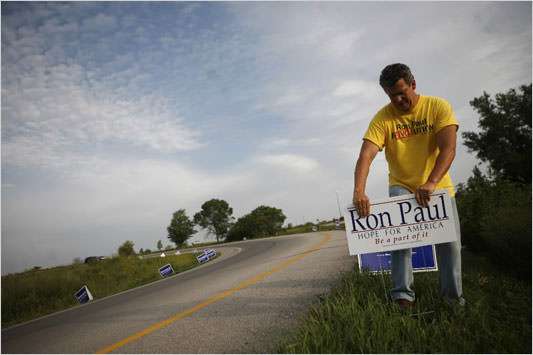 Las Vegas – Ron Paul's distant third place finish in the Republican caucuses did not live up to the high expectations his campaign set for him in Nevada. For months now we have been told about his caucus state strategy and how it would allow him to gobble up delegates all the way to the convention. If a brokered convention went down Paul might be in a position to play kingmaker, we were told. Paul, with his devoted legions, was supposed to thrive in this tediously complex low turnout environment. It was Paul supporters that would not oversleep on a Saturday and show up to their caucusing station before 9:00 a.m.
At the time of this post Paul's highly touted Nevada operation failed to overcome the nearly nonexistent operation of Newt Gingrich. We are still waiting on a quarter of the precincts to report their totals. But as it stands right now, Mitt Romney won with 47.6% of vote; Newt Gingrich placed second with 22.7%; and Paul finished third with 18.6%. Rick Santorum, who pretty much wrote this state off, finished in fourth with 11.1%.
If this result holds it is a significant setback for Paul, as caucuses like this are the core of his campaign strategy, one similar to Barack Obama's in 2008. Paul supporters are the most fanatical of any of the candidates remaining but Nevada demonstrated that he cannot rely on them alone to carry him to victory in caucuses. His plans are running into another bump with at least one of the candidates taking the caucuse states very seriously. One bright spot for Paul is that his followers are versed in the state delegate process while most campaigns appear to be focused on just the ballot box. Paul may have finished poorly here but according to people in his campaign they are optimistic about their efforts to elect delegates to the state convention in Reno.
"We're liking what we're hearing," one operative told me.
In emails, Paul supporters frequently reported disappointing caucus results but were giddy over the election of their compatriots to the convention in Reno. It was not uncommon to read or hear about every delegate at a caucus being a pro-Paul delegate. This is a positive development for his campaign but it is not a process that is replicated in every state. If Paul continues to struggle in caucus states he will have to find more unorthodox ways to increase his delegate count.