The Prosecutor Who Cleared Nick Christie's Jailers For Pepper-Spraying Him to Death Had a History of Letting Cops Off the Hook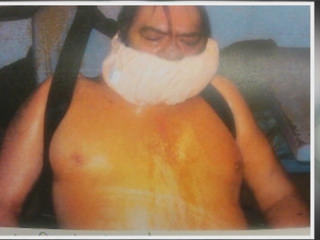 Ohio resident Nick Christie was picked up by the Lee County Sheriff's Department for public drunkenness in March 2009 while visiting his brother in Ft. Myers, Florida. His wife contends that he wasn't drunk, but had simply traveled from Ohio to Florida without his anti-psychotic medication. When he was booked at the county jail, Christie explained that he had a heart condition, emphysema, and suffered from mental illness, and was released.
Two days later, Christie was arrested again, this time for trespassing at the hotel where he was staying. He was taken to the same county jail, but this time, due to erratic behavior that his wife has claimed was in response to being without his medication, Christie was bound naked to a chair, gagged, and pepper-sprayed ten times. At various points, employees at the jail felt uncomfortable with Christie's treatment, and Christie pleaded for mercy because he couldn't breathe. Two days later, he died.
A medical examiner in Lee County declared Christie's death a homicide. Nearly three years later, no one has been charged with Christie's murder, because Assistant State Attorney Dean R. Plattner declined to recommend charges against the officers at the Lee County Sheriff's Department. In his January 2010 memo to State Attorney Stephen B. Russell, Plattner, who oversaw the homicide and special prosecution units for the 20th Judicial Circuit, wrote:
Christie died following cardiac arrest at the Gulf Coast Hospital on March 31, 2009. He was transferred to the hospital from the Lee County Jail on March 29, 2009. As indicated in Chief Investigator Smith's memo, Christie had been restrained and had OC spray applied several times during his presence in the jail, and the medical examiner has indicated that this was a contributing factor in the death, and the manner of death has been listed as "homicide".

As in all cases, our legal review is limited to whether criminal charges can and should be brought against one or more individuals, based upon the law and the available evidence. Not all deaths determined to be "homicides" are criminal matters subject to prosecution. A killing of another may be "murder" or "manslaughter", which are criminal offenses subject to prosecution. Other killings, however, may be the result of "justifiable homicide" or "excusable homicide" which are defined as "lawful", not criminal.

The evidence presented in this case does not legally prove beyond a reasonable doubt that any individual or group of jail personnel had any intent to kill Nicholas Christie, or otherwise committed an act of murder. Even considering the lowest level of criminal homicide, manslaughter, the evidence does not prove that such criminal offense was committed.

According to the Florida Supreme Court's Standard Jury Instructions, in order to prove manslaughter, we would have to prove that someone acted more than merely negligently or by failure to use ordinary care. We would have to prove that the conduct of the jail personnel was "gross and flagrant", showed "reckless disregard for human life", and was such that they "must have known, or reasonably should have known, was likely to cause death or great bodily injury." The facts of the case do not support this level of proof. The application of restraint and chemical spray to Christie obviously had an unfortunate and tragic result in this situation. This memo, however, is not intended as an opinion or comment on any federal and/or civil issues that may arise, as these are outside our jurisdiction and scope of review. Based on Florida law, and the evidence developed, we do not have a basis to bring criminal charges against anyone in this matter.
In short, Plattner refused to call the behavior of Christie's jailers "gross and flagrant," even though it was; to say that it showed "reckless disregard for human life," even though it did; or to insist that the jailers "reasonably should have known" that suffocating and repeatedly pepper-spraying the chest of a man who they knew to have emphysema and a heart condition "was likely to cause death or great bodily injury," even though they should have. (For a full history of deaths similar to Christie's, see Radley Balko's "Death in the Devil's Chair.")
I had planned to call Plattner to ask him if he saw the pictures of a gagged and tortured Christie before he wrote his memo, but the prosecutor died several weeks ago of a heart attack (my condolences to his wife and sons).
So instead, I started digging through Plattner's publicly available memos on investigations of law enforcement officers in Southwest Florida. I found cases dating back to the mid-2000s (Florida records law only requires records be kept for five years, with the exception of murder-1 records, which are kept forever, and misdeamonor records, which are kept for three years), but not one in which Plattner recommended charges against police officers. Below are a few cases that invite the kind of scrutiny the former prosecutor should've received for his mishandling of the Christie case.
On January 9, 2010, Plattner wrote a memo to Russell in which he cleared Fort Myers Police Officer Christian Reynolds of shooting an unarmed man:
Dion Maycock was shot once in the shoulder by Officer Reynolds, after failing to comply with an order to get on the ground, and making a sudden turn towards the officer while holding an object in his hand that the officer feared was a weapon. The item was actually a cell phone. It was later determined that Maycock had initiated the entire event by having made the call that resulted in the police response. [emphasis added]

In this case, the FMPD Officers, including Officer Reynolds, were sent to a location where a caller (later determined to have been Maycock) indicated a man was walking with a gun. Based on the information known to the officer at the time, the evidence indicates that he reasonably believed he was in danger, and used deadly force on that basis. Therefore, the use of deadly force was legally justifiable, and this matter should be closed without further action.
In June 2009, Plattner wrote a memo defending the actions of officers conducting a pre-dawn raid to serve a warrant in which officers killed the warrant subject (a man), and opened fire on a car with a woman and children inside it. According to Plattner's memo, the officers arrived at the warrant subject's residence at 4:50 a.m., just as two vehicles were leaving. In one vehicle, a white Acura, was the warrant subject, Arthur Coleman. According to Plattner's memo, Coleman drove towards a group of officers, who then opened fire on the vehicle, killing Coleman. The second vehicle attempting to leave the residence was a Dodge Durango:
At around the same time, the green Dodge, after backing out of the driveway, began driving on Gibson Street towards other officers. Fort Myers PD Officers Robert Kerbs and Tim McCormack gave verbal commands for the vehicle to stop. Instead the vehicle accelerated towards Officer Kerbs. In fear of his life, Kerbs fired one round at the vehicle. Fortunately, neither the driver, Kevondra Marion, nor either of her two small children who were in the vehicle with her were injured, nor were the officers.

There is no indication that the officers knew children were in the vehicle prior to the shooting. A person is legally justified in using force likely to cause death or great bodily harm if the person using the deadly force reasonably believes that such force is necessary to prevent imminent death or great bodily harm to himself or another. ln deciding Whether the person using the deadly force Was justified, that person must be judged by the circumstances by which he was surrounded at the time the force was used. In this case, the officers who fired at the 2 vehicles, respectively, were clearly in a situation where, according to the evidence, they were reasonably in fear of imminent death or great bodily harm. Therefore, their use of deadly force in shooting at the vehicles was a justifiable use of deadly force.

Despite the fact that Officer Kerbs was justified in shooting at the green Dodge, based on the circumstances he was in, We nevertheless have insufficient evidence to prosecute Kevondra Marion for the aggravated assault charge on which she was arrested. The evidence developed in the investigation does not prove beyond a reasonable doubt that Marion had the specific intent to do violence to the officers, as required by the statute. [Emphasis added] See Swift v. State, 973 So.2d 1196 (F la. 2nd DCA 2008). She made no admissions regarding this legal element, and under the totality of the circumstances we cannot prove that she was intentionally driving at the officers.

I therefore recommend that this case be closed without further action by this office.
In 2006, Plattner declined to bring charges against an officer who Tasered an incapacitated man who later died from the shock:
A Fort Myers police officer who shocked a man with a Taser shortly before his death four months ago won't face criminal charges, police officials announced today.

The state attorney's investigation into Steven M. Cunningham's death Oct. 13 found no evidence to indicate Officer Scott Townsend acted unlawfully, police spokeswoman Maureen Buice said.

Police officials also said their own internal investigation into the incident concluded the officer's actions were justified.

An autopsy conducted by the medical examiner's office ruled Cunningham's cause of death was cocaine toxicity with excited delirium, a controversial condition often linked to deaths after Taser use.

Townsend shocked Cunningham three to four times in the back with a Taser during the Oct. 13 incident, according to autopsy reports.

Cunningham, 45, collapsed and later died at Southwest Florida Regional Medical Center.

Townsend was at Ruth Cooper that day to deliver a person who was being admitted on Baker Act charges, according to a Jan. 24 letter from assistant state attorney Dean Plattner to State Attorney Steve Russell. Cunningham consumed large quantities of cocaine, Plattner wrote.

"He had taken his clothes off, and was on the ground at one point forcefully banging his head on rocks, causing obvious injury," Plattner wrote. "I do not believe the evidence supports criminal charges…and I recommend this matter be closed without further action."

Russell wrote a letter to Daniels two days later, indicating there was no evidence to suggest Townsend violated the law.
Note that Plattner says Cunningham was "causing obvious injury" to himself. Hard to see how Tasering him four times would mitigate that.