Little Girl Mutilated by Obama's Drone Warfare Comes to U.S. For Surgery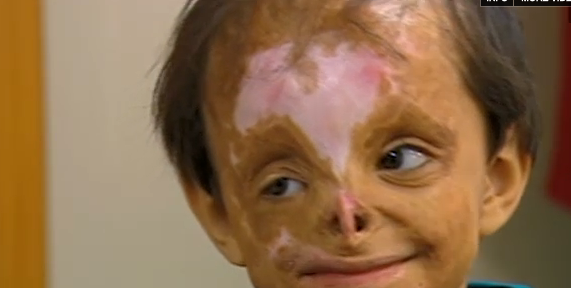 Shakira was one year old when Nobel Peace Prize Laureate Barack Obama ordered the 2009 drone strike in Pakistan's Taliban-infested Swat valley that nearly killed her. With two other burned little girls, she was put in a trash bin to die. A volunteer doctor with House of Charity discovered the three babies and attempted to save them. Two of the little girls died from their injuries, but Shakira, who is now four, lived to be disfigured.
CNN reports that Shakira arrived in Houston last week with her caretaker for a series of surgeries that "will make it easier for Shakira to grow older." ("She will never look fully normal," CNN adds.)
More from that story about Hashmat Effendi, the woman who became Shakira's caretaker:
She was only a year old, Effendi guessed, but small for her age. She was skinny. Dirty. Very bloody. She had fresh burns all over her face, her scalp and on her arms.

Effendi began searching for the little girl's family. She needed their consent before doctors operated on her. But when no one stepped forward, doctors proceeded anyway to treat the burns. Otherwise, they would have to amputate her arm. Otherwise, she might not survive.

Effendi named her Shakira.

"Life," she said, "was a gift for her."

Effendi continued to look for relatives, even scattered posters of Shakira everywhere and solicited the help of the Pakistani army and a government official. But still, no one claimed her.

Shakira was finally taken to Shalimar Hospital in Lahore, where she spent the next three years in a charity ward. Until last week.

Effendi was finally able to bring Shakira back to Houston, where Effendi lives.

When the Qatar Airways flight landed, Shakira turned to Effendi, whom she calls Mummy.

"Are we in America?" she asked.

"Yes," Effendi replied.

Shakira put her hands together and clapped.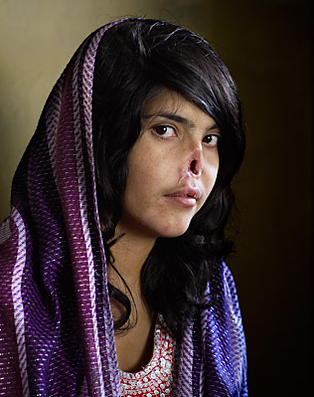 Just to put this in context: In August 2010, TIME magazine featured a mutilated Afghanistan woman on its cover to illustrate the misogynist horrors visited on Afghan women by the religious zealots in the Taliban. The story made the explicit case that U.S. troops were necessary for protecting women from the Taliban. How things have changed since then! "Look, the Taliban per se is not our enemy. That's critical," Vice President Joe Biden recently told Newsweek.
Perhaps TIME should plaster Shakira on its cover—alongside sixteen-year-old Muhammad Tariq, the Pakistani anti-war protester who was killed in a U.S. drone strike in late October—for a story about Pakistani children and the horrors of murder-drones. Or does that not fit the liberation narrative?