Schools Failing Despite Lots More Spending, Smaller Class Sizes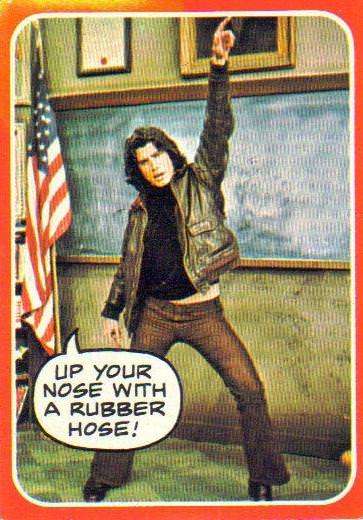 The AP reports that 48 percent of K-12 schools in the United States are failing to meet progress benchmarks set by No Child Left Behind (NCLB) laws. The good news? That figure is a lot less than Education Secretary Arne Duncan figured it would be (talk about managing expectations).
The findings are far below the 82% failure rate that Education Secretary Arne Duncan predicted earlier this year but still indicate an alarming trend that Duncan hopes to address by granting states relief from the federal law. The law requires states to have every student performing at grade level in math and reading by 2014, which most educators agree is an impossible goal.

"Whether it's 50%, 80% or 100% of schools being incorrectly labeled as failing, one thing is clear: No Child Left Behind is broken," Duncan said in a statement Wednesday. "That's why we're moving forward with giving states flexibility from the law in exchange for reforms that protect children and drive student success."
Eleven states have already got waivers from the NCLB mandates and another 39 are expected to get waivers sooner or later. That will give them more flexibility on delivering education but will cause Vinny Barbarino-like "I'm sooo confused" mayhem, says the AP:
Waivers fix the immediate problem but likely will make it much more difficult for parents to understand how schools are rated because progress will no longer be based on just one test score.
Yeah, maybe. Then again, using more than one test result may also mean that people will get a clearer sense of whether schools are worth a damn. And you know what else? Giving kids an actual possible exit from their public schools would give a greater sense of whether folks think a particular school is good or bad.
Expect this report to be used as a push to finally finally finally spend more on education, despite a general increase in spending on all levels of education (and an increase of the numbers of teachers per student). If the schools stink, it isn't because they are getting more money on a regular basis.
From the Statistical Abstract of the United States: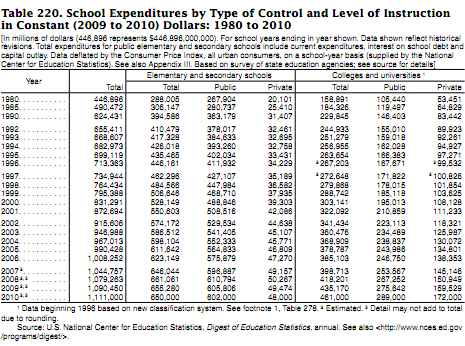 Watch President Barack Obama talk on the phone and lay out an education vision that deserves a big fat F: