Mega-Thanks to Culinary Freedom Fighter & Guest Blogger Baylen Linnekin!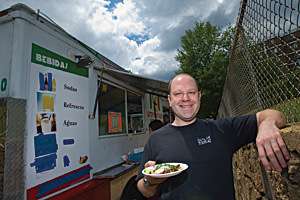 Fridays are such sweet sorrows!
Hit & Run has been graced this past week by the presence of guest blogger Baylen Linnekin, the founder and head of Keep Food Legal, a nonprofit devoted to "culinary freedom," the idea that Americans should be able to buy, cook, and eat whatever they want.
It's a righteous cause and Linnekin has served up over a dozen tasty posts this past week on topics ranging from the politics of horse meat bans to Four Loko freakouts to work-arounds related to McDonald's Happy Meals. Read his Reason archive here.
If you're interested in the intersection of food, public policy, libertarianism, and the nanny state, I recommend that you check out Keep Food Legal and follow Linnekin on Twitter (and KFL too).
If you live in the greater Washington, D.C. area, you might also think about checking out a very special event that Keep Food Legal is hosting in Arlington, Virginia on Saturday, December 10 at 5.30 PM. The event will feature commestibles from some great food trucks and speakers such as:
Matt Geller, who heads the groundbreaking Southern California Mobile Food Vendors Association and is one of the leading and most successful advocates for the rights of food trucks to operate free from gratuitous regulations in this country, will be in town all the way from Venice, CA to serve as our featured guest speaker.

Doug Povich, co-owner of the Red Hook Lobster Pound truck, will speak about his experiences wading through the ongoing regulatory process.

Robert Frommer, an attorney with the excellent Institute for Justice—which helps food-truck entrepreneurs and other small businesses fight back against unjust regulations—will speak about IJ and the group's work on behalf of food trucks.
Linnekin's got one more post to go here at Hit & Run before we set him free from the rockpile that is guest blogging. While you're waiting to see just what comes out of the oven, check out this Reason.tv vid about how D.C.—the city on a swamp!—created a great food-truck scene by loosening its regs even a tiny bit: