Liquor Infusing Illegal in Iowa (Unless You Buy it from the State)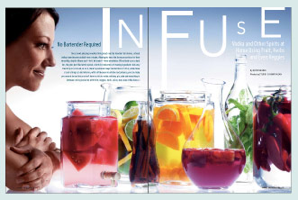 Old-school, hand-crafted cocktails have been exploding in popularity for several years now. Great cocktail spots have sprung up in cities and towns across the country. (Jacob Grier, a friend and fellow Reason contributor, was the first person I knew personally who recognized the impending craft cocktail boom.)
Recently a restauranteur in Iowa thought he'd capitalize on the phenomenon by infusing his own liquors. You can pretty much guess how that went.
When Kurt Friese began building a handcrafted bar for his restaurant, Devotay, he had visions of creating cocktails with his own infusions and bitters.

But then he found out about an Iowa law that prevents restaurants and bars from selling liquor which is stored in anything but the original packaging purchased from the Iowa Alcoholic Beverages Division.

According to sections of Iowa Code 123.49, establishments with a liquor license also cannot have any liquor on the premises that has been infused with contents such as fruits, vegetables or herbs, with the exception of mixed drinks or cocktails made for immediate consumption.
Whole thing here.
Though tasty, this isn't excactly rocket science we're talking about here. Infusing liquor involves cutting up some fruit or whatnot and covering it with booze for a few days. That's about it. Really.
So what's the big deal? I'd look right to the section of Iowa code that mandates Iowa bar and restaurant owners must purchase all their hooch from the state. While this makes Iowa "one of nineteen control states that, since the repeal of prohibition, directly control the sale and distribution of alcoholic beverages," it also gives the state an incentive to force bars to purchase pre-infused liquors from the state. Lo and behold, a state guidance document, Investigating Infusing (PDF), urges just that practice in lieu of infusing one's own liquor:
In order to keep up with the demand for infused spirits, the Division recommends licensees purchase liquor that has been infused by the manufacturer. We currently carry a number of products infused with fruits such as pineapple and passion fruit as well as citrus and ginger.
Reason's had the recent skinny on state liquor news in Utah, Pennsylvania, Maryland, and Washington State.
Baylen Linnekin is the director of Keep Food Legal, a nonprofit dedicated to preserving and increasing "culinary freedom," the right of all Americans to grow, sell, prepare and eat foods of their own choosing. To join or learn more about the group's activities, go here. To follow Keep Food Legal on Twitter, go here; to follow Linnekin, go here.