George Will: Spending Wins, Even With Mandatory Sequester Cuts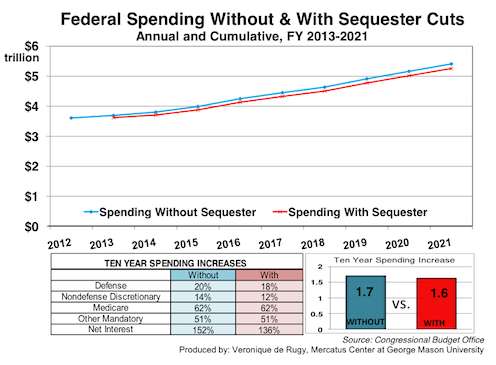 Wash Post columnist (and Declaration of Independents enthusiast) George Will notes that whatever the Super Committee comes up next week, the answer will almost be certainly: More spending than we are now!
Born during what is mistakenly called the debt-ceiling "debacle" last summer, the congressional supercommittee may die without agreeing to a 10-year, $1.2 trillion (at least) deficit-reduction plan. This is not properly labeled a failure. Committee Democrats demanded more revenue; Republicans offered $500 billion; Democrats responded with the one-syllable distillation of liberalism: "More!" So the committee's work has been a clarifying event that presages a larger one — next November's elections….

The supercommittee should by now have sent its plan to the Congressional Budget Office for "scoring" — calculation of the fiscal consequences of its proposals. The law establishing the committee requires any proposal to be published in legislative language 48 hours before Nov. 23. Not that law has much to do with fiscal matters: The Democratic-controlled Senate has not produced a budget in more than 930 days. This is just one way existing budget law is ignored.
Will underscores that even the dreaded "sequester" kicks in if Congress doesn't pass a plan by year's end, the result will still be massive increases in spending. To do so, he turns to the work of Reason columnist and Mercatus Center economist Veronique de Rugy:
Ignore loose talk about "draconian" spending cuts. Veronique de Rugy of George Mason University's Mercatus Center has a graph (http://bit.ly/uKZAUd) you should see.

It shows two lines. The top one charts spending, 2013-2021, without the sequester; the other shows spending with the sequester. Both lines are ascending. Both show annual spending rising from less than $4 trillion to more than $5 trillion. The space between them is so narrow that it is difficult to see that there are two lines. Without the sequester, spending will increase $1.7 trillion; with the sequester, spending will increase $1.6 trillion. Here are categories of spending:

Ten-year spending increases
Without
With
Defense
20
percent
18
percent
Nondefense
discretionary
14
percent
12
percent
Medicare
62
percent
62
percent
Other mandatory
51
percent
51
percent
Net
interest
152
percent
136
percent
And as de Rugy will be the first one to point out, all those increases listed above come on top of the massive ones of the past decade-plus.
For the whole Will col, go here.
Related: Sequester Cuts Biggest Anticlimax Since Release of Segway, Final Fatima Revelation, Last Two Matrix Movies.