U.S. Deportation Frenzy, Haitian Edition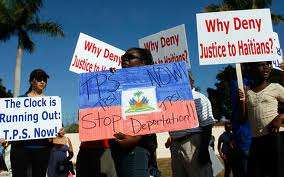 President Obama is on pace to deport more illegal immigrants in his first term than George W. Bush did in two. The current administration isn't opposed to deporting legal permanent residents either, at least when it comes to the Haitian-born variety.
The San Francisco Chronicle reports:
[Wilberle] Vereus was only 2 years old when his family fled Haiti on a boat following the 1991 coup d'état of President Jean-Bertrand Aristide. But after a U.S. immigration judge sent him to Haiti this year, Vereus found himself back where he was born, in a country he barely knew.

But he is not alone. Since January, the United States has deported more than 250 Haitians knowing that one in two will be jailed without charges in facilities so filthy they pose life-threatening health risks. In recent years, immigration officials have stepped up deportations of legal immigrants like Vereus because of criminal convictions.
Due to a Supreme Court decision, detainees facing deportation can only be held for up to 180 days before being released back into American society. So U.S. Immigration and Customs Enforcement (ICE) often opts to deport rather than release. The Chronicle reports that an ICE spokeswoman claimed the agency would "prioritize [deportations for] those who pose the greatest threat to the community."
What egregious crime did Vereus commit to warrant deportation? While in high school, he and a friend stole some iPods from a group of teenagers, for which he served a three-year sentence.
The Chronicle also notes that ICE hasn't just been deporting Haitians convicted of crimes in recent years:
A review of federal data shows ICE deported at least 2,684 non-criminal immigrants to Haiti from 2007 to 2010. As recently as 2008, 74 percent of all Haitian deportees did not have criminal convictions, according to the data. In the three months leading up to Haiti's earthquake, 67 percent of deportees were non-criminals.
Read Jacob Sullum on how rigid deportation rules make a mockery of justice, as well as other Reason coverage of U.S. deportation frenzy.