The Selling of Zuccotti Park
The most shocking thing I saw at Zuccotti Park during my weekend visit was that it is teeming with very thing that protesters hate: markets and commerce. All around the tiny tent city, vendors have sprung up, like mushrooms in warm compost, selling all kinds of Occupy Wall Street paraphernalia— buttons, pins, souvenirs. (Incidentally, there were more tourists than protesters at the park.) I actually witnessed greenbacks changing hands several times: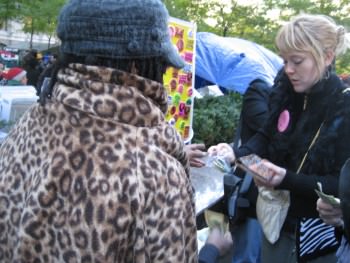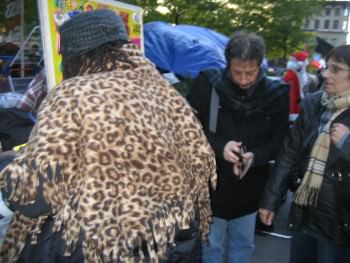 As if this is not bad enough, all of this was going on right next to a stall inviting people to return to the golden age of bartering, because, you know, an economy where people live hand-to-mouth and die in their 40s is so much more sustainable than the alternatives. Converting your surplus product into money to buy what you want when you want to free yourself from death, disease and hunger is just so goddamned bourgeois and selfish.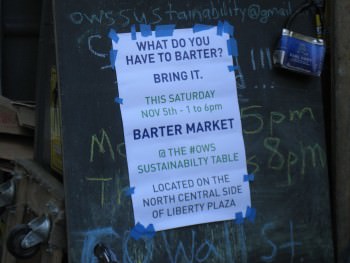 But I suspect the capitalist economy will survive longer than the movement. Indeed, nothing coopts a movement faser than entrepreneurs commodifying it to turn a quick buck (especially when they dress like the nice lady below rather than wearing their traditional horns and hoofs). With Zuccotti Park pins already selling like hot cakes, can Zuccotti Park camping equipment, Occupy Wall Street jumpers, McDonald's Zuccotti Park Hobo Special, Chef Boyardee Zuccotti Manacotti be far behind?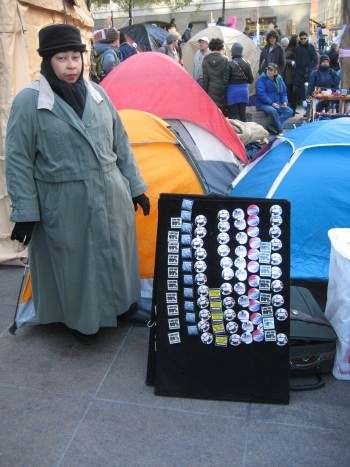 It's over folks.