South Carolina is the Latest State to Draw Justice Department's Immigration Ire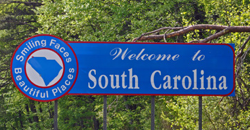 On October 31, the U.S. Department of Justice sued South Carolina over the state's new law that cracks down on illegal immigration.
South Carolina's law, set to take effect in January, requires police officers to determine the immigration status of anyone they detain and creates a felony charge for people in the country illegally.
In its suit, the Justice Department claimed that the law would:
Undermine federal law and invade federal authority by imposing punitive sanctions for conduct that falls outside of the state's police powers and that Congress affirmatively decided should not be subject to such sanctions.
The Department made similar claims in previous lawsuits against Arizona and Alabama, arguing that the authority to enforce immigration law rests with the federal government. Federal courts blocked the enforcement of Arizona's law and parts of Alabama's. Both states are appealing those decisions.
A spokesman for South Carolina Gov. Nikki Haley said, "As the daughter of immigrants of who came to this country legally, Gov. Haley understands that no American value is more sacred than the rule of law." He also said that the state was forced to act only because the federal government was not enforcing immigration laws.
While her spokesman stressed that Haley's parents immigrated legally, you might not expect a first-generation American to become one of the faces of illegal immigration crackdown efforts, along with Alabama Gov. Robert Bentley and Arizona Maricopa County Sheriff Joe Arpaio. During Haley's run for governor, a state senator called her a "fucking raghead." Haley is the state's first Indian American governor, as well as its first female governor. As a child, the owners of a home the Haley family sought to purchase refused to sell because they didn't wan't people with "brown skin" living there.
For those who draw a clear line between Haley's parents and "illegals," Shikha Dalmia has written about "the root cause of the large illegal population: lack of legal avenues for unskilled aliens to enter the U.S." She also contributed to Reason's illustration of America's Absurd Immigration Waiting Line, which details just how many years or even decades legal immigration take for most people–if they make it through the process at all.
Read further Reason reporting on Arizona and Alabama's crackdowns on illegal immigration. More Reason on immigration here.