John Merline on the "Austerity Myth"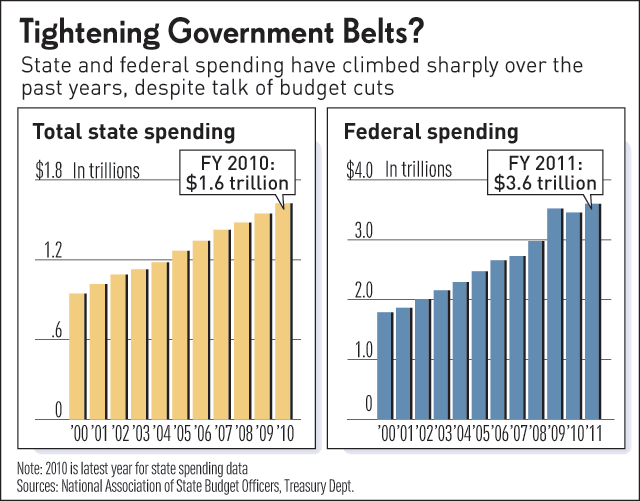 How can Rep. Ron Paul (R-Texas) propose a $1 trillion federal budget cut when we've already cut to the bone? Over at Investor's Business Daily, John Merline provides some important context and charts:
[D]ata released by the Treasury Department on Friday show that, so far, there hasn't been any spending cuts at all.

In fact, in the first nine months of this year, federal spending was $120 billion higher than in the same period in 2010, the data show. That's an increase of almost 5%. And deficits during this time were $23.5 billion higher. […]

Nor does the claim that state governments sharply cut spending stand up well to closer scrutiny.

Overall state spending continued to climb right through the recession, when all money from state general funds and other funds, federal grants and state bonds is combined.

Total state spending in 2010 was almost 10% higher than in 2008, according to the National Association of State Budget Officers' annual State Expenditure Report.

And general fund spending — which makes up about 40% of total state spending — is expected to climb 5.2% this year and 2.6% next year, according to the association's latest survey.
Whole thing, including some collected scare-quotes about alleged austerity, here; link via Drudge. Peter Suderman wrote about the austerity myth last month.