Obama Administration Dumps Bad News, Major ObamaCare Program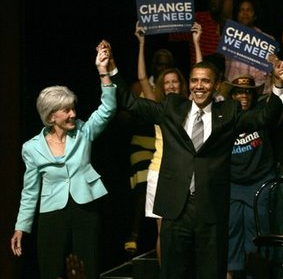 CLASS is cancelled. The Obama administration now says that it will not go forward with the Community Living Assistance Services and Supports (CLASS) Act, a long-term care benefit attached to ObamaCare that was responsible for roughly half of the law's scored deficit reduction. In a letter to Republican House Speaker John Boehner, HHS Secretary Kathleen Sebelius wrote that "despite our best analytical efforts, I do not see a viable path forward for CLASS implementation at this time." More from the AP:
The Obama administration says it is unable to go forward with a major program in the president's signature health care overhaul law—a new long-term care insurance plan.

Officials said Friday the long-term care program has critical design flaws that can't be fixed to make it financially self-sustaining.

Health and Human Services Secretary Kathleen Sebelius told Congress in a letter that she does not see a viable path forward at this time. By law, implementation of the program was contingent on Sebelius certifying it financially sound.
According to The Washington Post's Sarah Kliff, HHS has admitted that the original methodology used to create CLASS projections was "quite thin," and will adjust ObamaCare's revenue estimates accordingly.
What that means is that of the original $143 billion in scored deficit reduction the Congressional Budget Office gave ObamaCare for its first decade of existence (2010-2019), $70 billion is now gone.
(Those estimates have since been updated so that they continue to extend forward by a full decade: Between 2012 and 2021, CBO recently projected that ObamaCare will reduce the deficit by $210 billion, with $86 billion coming from CLASS.)
Much more on CLASS here, here, here, and here.
Headline shamelessly recycled from Ben Domenech's twitter feed.