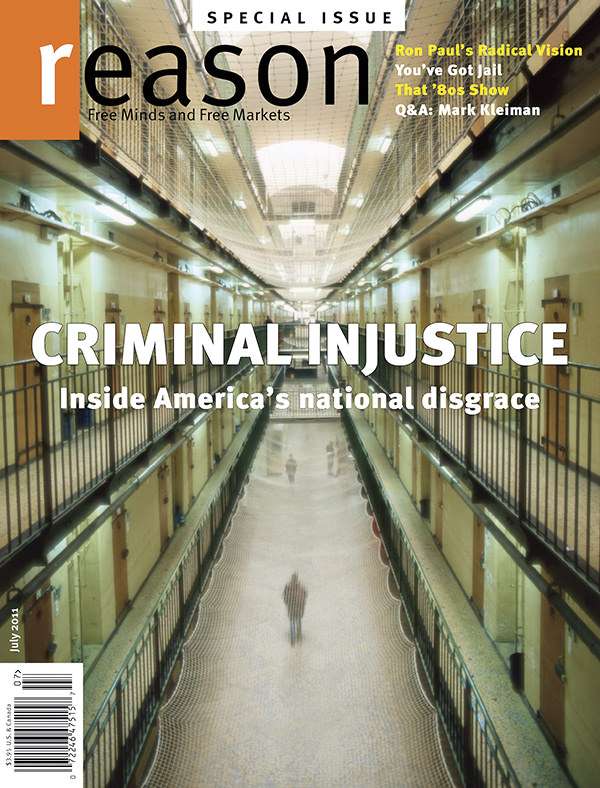 In "Perverted Justice" (July), Jacob Sullum writes that recidivism rates for sex offenders are low, citing a 2003 Justice Department study that found that "5 percent [of sex offenders] were arrested for new sex crimes within three years of being released from prison." That same study, however, notes that convicted sex offenders are four times more likely than other criminals to be rearrested for a sex crime. More notably, Anna Salter's award-winning research on recidivism finds that the average sex offender assaults more than 100 different victims during a lifetime.
Consider the story of 9-year-old Jessica Lunsford. John Couey, a registered sex offender, abducted Jessica from her Florida home in 2005 and repeatedly sexually assaulted her before stuffing her in garbage bags and burying her alive in a shallow grave behind his home. But Couey was living at an unregistered address, so no one in Jessica's neighborhood knew he was a sex offender.
Couey's prior criminal record included 24 arrests, two of which were for the sexual assault of a minor. He kissed a young girl during a burglary, which resulted in spending two years in jail. A dozen years later, he spent a few more years in jail for fondling a girl. After another dozen years, he raped and murdered Jessica, proving Salter's finding that violent offenders escalate over time.
Stacie Rumenap
President, Stop Child Predators
Washington, DC
Jacob Sullum replies: It is hardly surprising that sex offenders are more likely than, say, burglars to be arrested for a sex offense. Conversely, burglars are more likely than sex offenders to be arrested for burglary. Such comparisons, which reflect criminal specialization, do not alter the fact that measured recidivism rates for sex offenders are much lower than politicians and activists commonly claim.
Likewise, I don't see any basis in Salter's book (Predators: Pedophiles, Rapists, and Other Sex Offenders) for the assertion that "the average sex offender assaults more than 100 different victims during a lifetime." Salter cites a series of studies in which 232 male child molesters in voluntary treatment "reported that they had more than 17,000 total victims." That's about 73 victims per subject, not "more than 100." Furthermore, the men may not have been telling the truth (Salter mentions the possibility that they were "bragging about things that never happened"), and the sample may not have been representative of male child molesters, let alone sex offenders in general. It is risky to draw any conclusions about "the average sex offender" from such data.
Since Florida's publicly accessible sex offender registry did not prevent John Couey from raping and murdering Jessica Lunsford, it is hard to see how his crime bolsters the case for such online databases. In any event, sex crimes in which strangers with criminal records attack children are the exception, not the rule. Justice Department data indicate that more than 90 percent of sexually abused minors are assaulted by relatives or acquaintances, while nearly nine out of 10 people arrested for sex offenses have no prior convictions for this category of crime.