Remembering 9/11: Memorializing Ground Zero, Bert and Osama, Bruce Springsteen Falls Flat
Throughout this week, we'll be posting old and new Reason material related to the 9/11 attacks.
To see a snapshot of what Reason.com (then called Reason Online) looked like in January 2002, go here.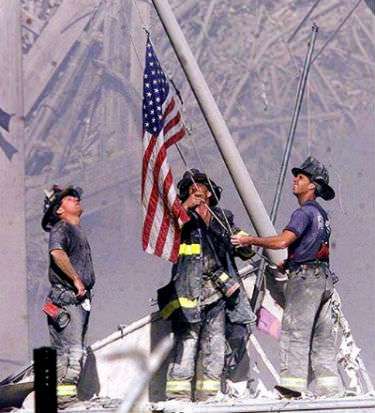 In December 2001, Contributing Editor Jonathan Rauch visited Ground Zero in lower Manhattan and found himself momentarily offended by the presence of street vendors, commercial tour buses, and other moneymaking ventures. "Why not just sell popcorn and tickets and glossy souvenir programs?" he later wrote at Reason Online. But then Rauch took a closer look around:
I knew I had seen this kind of demeanor before but couldn't, just then, put my finger on where. Only afterward did I realize where I had seen people gather in public with this same air of subdued seriousness, people looking for hints of the dead, trying to comprehend and remember.

Graveyards are not gloomy; they are comforting. They come between grief and forgetfulness. The windswept crosses of the American cemetery at Normandy and the stoic headstones of Arlington National Cemetery are profoundly moving because they recognize that there are times and places where the dead speak more eloquently than the living: where, indeed, grandiose architecture or grandiloquent statements merely diminish the sanctity of hallowed ground.

The World Trade Center site needs not a memorial but memorials, commemorating not the crime but its victims. It needs a silent sea of headstones for the thousands who were, after all, interred there. Part of the site should be returned to the living, but part should remain forever what it became after September 11: a place of burial and mourning, where wind and rain and time mingle with ash and stone and memory.
Among the many surreal images that appeared in the wake of the 9/11 attacks, few were quite as bizarre as the posters held by supporters of Osama bin Laden depicting the infamous terrorist leader with Sesame Street's Bert hovering in the background. In Reason's January 2002 issue, contributor Dann Halem explained how an American puppet joined the jihad:
Reportedly, Bangladeshi protesters unwittingly downloaded the image of Bert and Osama bin Laden from one of a number of "Bert Is Evil" Web sites. These sites humorously suggest that the famously taciturn puppet is behind much evil in the world, doctoring photographs to show Bert alongside the likes of Adolf Hitler, Charles Manson, and Jeffrey Dahmer.

With journalists anxious to report something lighter, pundits were quick to peg ill-tempered Bert as "bin Laden's felt-skinned henchman" and suggest that the puppet had finally abandoned his longtime companion Ernie and joined the Al Qaeda network.

Still, there's a lesson that goes beyond the obvious laughter. It's one about how popular culture gets used, transformed, and circulated by its consumers, with little or no regard for its producers' intentions or interests.

Sometimes the result is a chuckle. Other times it's a revolution.
In July 2002, New Jersey rock hero Bruce Springsteen released The Rising, a concept album centered around the 9/11 attacks. Rolling Stone reviewer (and future Reason contributor) Kurt Loder gave the record a coveted five-star review, praising the Boss for wading "into the wreckage and pain of that horrendous event and emerg[ing] bearing fifteen songs that genuflect with enormous grace before the sorrows that drift in its wake." Reason Senior Editor Brian Doherty had a different take on Springsteen's accomplishment:
Why all the fuss about what turns out to be a mediocre record? For one, Springsteen is a hero to the late baby boomer generation that has reached decision-making dominance in both the production and consumption of mass media. After his decade or so in the market wilderness—for the past 15 years, his CDs elicited little response from fans—he's ripe for the sort of career reconstruction project that Americans love so much. (Despite F. Scott Fitzgerald's famous quip about there being no second acts in American life, there's nothing we love so much, as Ozzy Osbourne could attest.) And Springsteen, the self-styled hero of the American Working Man, does have the marketing clout of the Japanese megacorporation Sony behind him.

But the biggest news hook for Bruce's comeback is the biggest news hook of our lives: 9/11 and its aftermath. Springsteen's new CD is "the first significant piece of pop art to respond to the events of that day," says Time. Some might remember that Neil Young wrote, recorded, and released "Ohio," his famous song about the 1970 murder of Kent State students by National Guardsmen, within a month of that tragedy. Young was only a little slower with his blunt, patriotic "Let's Roll" in the wake of 9/11, getting it on the airwaves by December. It took Springsteen almost a year to deliver his more epic, album-length take on the tragedy and its emotional aftermath.

But all the time spent punchin' the studio clock by Springsteen and his reunited E Street Band mates didn't help. The subject matter turns out to be too big for Springsteen. On albums such as The Wild, the Innocent, and the E Street Shuffle and Born To Run, he made his reputation by combining big spiritual issues with the quotidian details of the lives of shiftless kids and blue-collar workers. The characters in his songs desperately sought sin and redemption, love and transcendence through cars, guitars, and petty schemes to make a better life. He was best at crafting something epic out of the everyday—at making a couple of kids on a motorbike resonate with Wagnerian grandeur. Ironically, when confronted with the epic tales of heroism and loss of 9/11, his gifts fail him.
To read previous entries in Remembering 9/11 and related stories, go here.