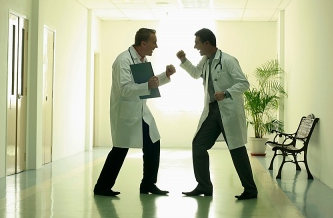 The American Medical Association (AMA) claims that its mission is to "unite physicians" in order to "promote the art and science of medicine and the betterment of public health." It's a lobbying group for doctors that claims to represent their interests on public policy and other matters.
But according to a new survey of physicians by Jackson & Coker, a majority of doctors aren't buying what the AMA is selling: Just 11 percent agree that the AMA represents their views; 77 percent disagree. One of the biggest areas of disagreement? Last year's health care overhaul. The AMA supported its passage, but now 70 percent of physicians report that they do not agree with the AMA's position on the health law.
Full survey results, via Politico Pulse. Read Reason's Shikha Dalmia on the evil-mongering of the AMA.