The Merida Initiative Will Last Forever, State Department Claims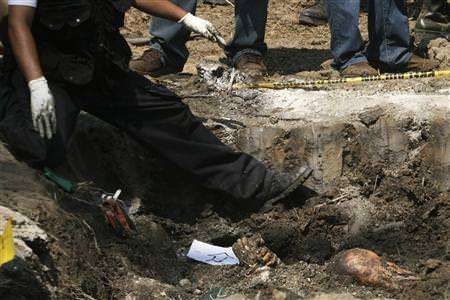 State Department officials announced yesterday at the Eight Annual Conference on Border Security that the anti-cartel Merida Initiative will shift its focus to Northern Mexico, and that the program will continue unabated regardless of which party wins Mexicos' presidential election in 2012.
The State Department and DOJ have also apparently latched onto the idea of using local U.S. cops to train local Mexican police. William Brownfield, an assistant secretary of state for international narcotics and law enforcement affairs, told the AP that local Mexican police are having the "most" trouble fighting the cartels, and that spending some time in the company of the San Diego PD and the Webb County Sheriff's Department will somehow fix that.
If we assume that San Diego and Webb County cops are experts at combatting organized crime, that still doesn't change the fact that Mexican cartels are radically different from U.S. gangs. A timely post from the organized crime publication InSight explains just how different:
The structure of the drug trade in the U.S. domestic market is distinct from the largely transit and production-based models seen in Mexico, Central America, and Colombia. According to scholars like Marcelo Bergman of Mexican think tank CIDE, distribution markets are inherently different from production and trafficking markets in terms of the numbers of organizations and individuals involved. Like production, distribution can be manpower-intensive and may require large numbers of employees to deal the drugs. However, the situation in the U.S. is not conducive to large cartels because big structures are vulnerable to being detected and broken up by law enforcement, which is more effective and well-funded than, for example, Mexico's law enforcement. Highly compartmentalized organizations, like the decentralized network of street and prison gangs, are better suited to the U.S., as a large number of small groups draws less attention from the authorities than one big organization.
The Webb County Sheriff's Department patrols the area around Laredo, which is a choke point for drug shipments, but hardly resembles Juárez or Moneterrey in terms of violence. The Webb County Sheriff's Department has never been bombed, its officers do not face daily the likelihood of execution, and they have never felt the urge to quit their jobs en masse for fear of execution. If the State Department believes local U.S. cops can help the situation in Mexico, they should explain how, especially since the U.S. military has been training Mexican cops and military members for years, with more mass graves and cartel in-fighting as the only measurable result.
The State Department should also explain how many kilos of blow it needs to confiscate to justify little kids getting their heads chopped off and how many weed fields it needs to burn to justify Northern Mexico being the most dangerous non-warzone in the world. While those queries are hard to benchmark, the DOJ and State have also failed to publicize (or perhaps even create) a timeline for the Merida Initiative, other than to say it will continue at least beyond 2012:
"Let me make this clear," Brownfield said. "No matter if the PAN (National Action Party), PRI (Institutional Revolutionary Party) or another party wins the election, the initiative will continue to work even when suffering some minor adjustments."
More on Mexico's failed drug war.
Update: Here's a snippet of Brownfield's prepared remarks given today at the consulate in Juarez. These remarks were given to Mexican journalists across the river from the border conference in El Paso. Ladies and gentlemen, enjoy:
Ladies and gentlemen, you hear an optimist in this process. I am one of those people who genuinely believe that this collaboration has produced positive results in recent years and particularly in the last twelve months. I think right now we are talking about how we can further improve this positive process.

I think we've had a lot sacrifices on both sides of the border, including, and you deserve credit for this, including the incredibly brave journalists here in the city of Juarez and other cities in Mexico that attempt to inform their communities about the realities of its streets and its people. And I congratulate you and offer you my respect for the fallen and the people you have lost due to your profession.

Ladies and gentlemen, I believe that this process of collaboration under the Merida Initiative will eventually succeed because of a very simple reason for Mexico as well as for the United States: We cannot lose, because if we lose we will say to the generations that come after us "you are condemned to live in a disgusting and repulsive world," and that's a conversation I do not want to have with my children or grandchildren in years to come.
Thirty thousand people have died "in recent years" due to the increased pressure the U.S. has applied to Mexico's cartels. If that's winning, then yes, the U.S. is winning.