Rick Perry's Balanced Budgets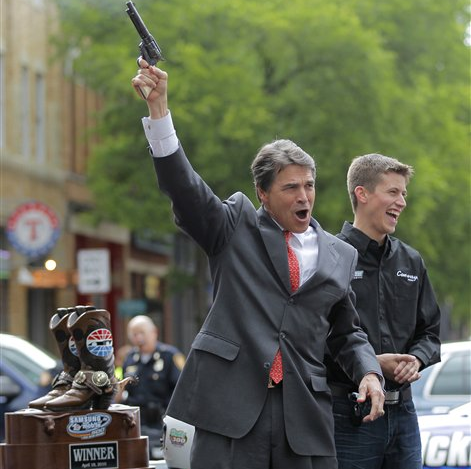 As governor of Texas, Rick Perry leaned on federal stimulus funds more than any other governor, using about $6 billion in federal stimulus funds to close roughly 97 percent of his state's budget shortfall in 2010. But that didn't stop him from complaining loudly about the stimulus legislation. "I have been vocal in my opposition" to the law, he wrote in a letter to President Obama agreeing to accept federal stimulus funds in Texas, because it "will burden future generations with unprecedented levels of debt."
This year, with stimulus money unavailable, he turned to other methods to balance the Texas budget. As The Washington Post's Suzy Khimm reports, Perry's new budget "ignores a $4.5 billion structural deficit that happens every year" thanks to a 2006 tax overhaul that didn't work as projected. According to a report by ABC News, Perry's budget also closed a big part of its budget gap by delaying a $2.3 billion education payment a single day. Thanks to that one-day delay, the payment will fall into the next budget year, and therefore will not technically affect the current year's budget.