Recent and Upcoming Declaration of Independents Events and Appearances!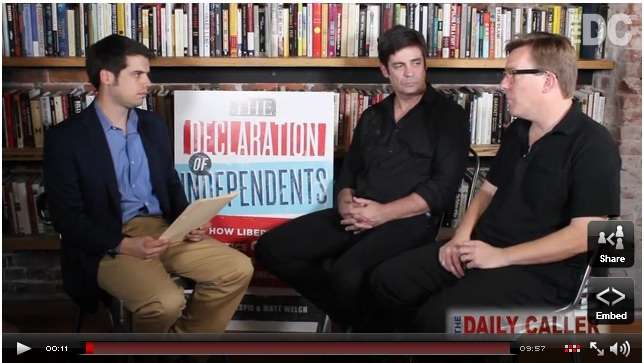 Yesterday, Matt Welch and I talked for an hour on Philadelphia's WHYY about the themes and issues in our new book, The Declaration of Independents: How Libertarian Politics Can Fix What's Wrong With America.
Tonight, I'll be on John Stossel's Fox Business show at 10pm ET, talking about dirty political campaigns through the years. As a bonus, Reason's Damon Root will also appear, talking about FDR and the many myths surrounding America's only four-times-elected president. Go here for more.
Tomorrow night, I'll be on HBO's Real Time with Bill Maher, which airs at 11pm ET. Other guests include political consultant Donna Brazile, actor John Turturro, and Mayor John Fetterman of Braddock, Pennsylvania (alas, Ben Affleck dropped out).
On Sunday, Matt Welch and I will host a reception in San Francisco. Details:
Sunday, July 24: Coffee and Chocolate at TCHO
4:00 p.m. – 6:00 p.m.
Pier 17 on the Embarcadero at Green Street
San Francisco, CA
RSVP by Friday, July 22 to Mary Toledo at mary.toledo@reason.org or 310-391-2245
TCHO is the award-winning artisanal chocolate created by Jane Metcalfe and Louis Rossetto, the co-founders of Wired magazine. Check out the company's site.
And on Monday, Matt and I will appear at the City by the Bay's legendary Commonwealth Club. Details:
"WWLD: What Would Libertarians Do?"
Nick Gillespie and Matt Welch, Reason Magazine and Reason.tv; co-authors, The Declaration of Independents
In conversation with Joe Garofoli, Reporter, San Francisco Chronicle; Author, Politics Blog, SFgate.com

What do health care, same-sex marriage, marijuana law, the budget and social service policies look like on a Libertarian ticket? Authors of a new Libertarian manifesto, Gillespie and Welch offer up principles of "free minds and free markets" as their fix to what's wrong with America. Come hear how Libertarian solutions for modern America match up against the other platforms.

Location: SF Club Office
Time: 6 p.m. check-in, 6:30 p.m. program, 8 p.m. networking reception
Cost: $20 standard, MEMBERS FREE, $7 students (with valid ID)
And on Friday, July 29, Matt and I will appear in Los Angeles's famed Book Soup. Details:
Friday, July 29

7PM PT

Book Soup

8818 Sunset Blvd.

W. Hollywood CA 90069

Email: info@booksoup.com
telephone: 310.659.3110 or
fax: 310 659-3410

Free parking behind the store via Nellas St.
More events to come in Portland, Oregon; Chicago, IL, and more!