Katrina vanden Heuvel Praises Media Megalomaniac Michael Copps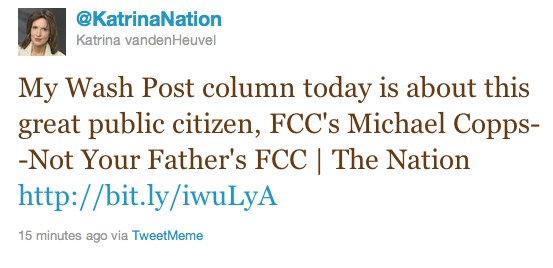 Behold the latest Washington Post column from Nation publisher Katrina vanden Heuvel, in which the lady praises Federal Communications Commissioner and media megalomaniac Michael Copps:
[I]n his two terms on the FCC, Copps has become the 21st-century embodiment of that old-fashioned creature: a public servant of deep integrity and courage who uses his position to speak for those whose voices are rarely heard. He has done so at a time when press freedoms have been challenged as never before, not just by technology but by corporate interests that seek to dominate the flow of information — and the profits derived from it.
In the wake of Janet Jackson's Super Bowl nipple slip, and at Copps' behest, Congress increased indecency fines from $27,500 per incident to $500,000 per incident. As I wrote last year, Copps then
threatened to go after daytime soap operas, as well as network dramas like "ER" and "The Bedford Diaries." The ripple spread even to public media, for which the commissioner has an unabashed fetish. PBS pulled certain episodes of the British detective series "Prime Suspect," and a PBS programmer in Boston felt compelled to ask his superiors if he should cut an episode of "Antiques Roadshow" that featured a nude photograph of Marilyn Monroe. According to a report from the First Amendment Center, Copps' stomping around got so bad that "television producers complained about network intimidation."

Hailed by groups like the Parents Television Council and Concerned Women for America, Copps appeared to be unstoppable until 2006, when Fox, NBC, and other networks filed suit against the FCC for going overboard on indecency. In 2009, the Supreme Court ruled that the commission "had enacted its policy correctly," but sent the case back to the Second Circuit to determine which of the FCC's guidelines were constitutional. The Second Circuit decided in July of this year that they were not.

In response, Copps promptly labeled the ruling as "anti-family" and encouraged his colleagues "to clarify and strengthen [the FCC's] indecency framework."
The occassion for vanden Heuvel's latest column is the release of a FCC study that suggests the media industry is fully capable of saving itself (via creative destruction, natch). Copps isn't pleased with the report, and issued a dissent earlier this month that read:
Localism means less program homogenization, more local and less canned music, and community news actually originated in the market where it is broadcast rather than being imported so much of the time from far-away studios controlled by absentee owners. In this continuing era of media industry consolidation, we all know that coverage of local music, local talent, local culture, local sports, local diversity communities, local political issues and election campaigns (other than horse-race odds-making) are more the exception than the rule. The Staff Report does recognize problems in the generation of local news and information and the lack of accountability journalism, to its credit. This underscores the point I have been making for years. But instead of calling for stepped-up Commission action, it tinkers around the edges, for example urging philanthropies to find better ways to do their business, asking Congress to change the tax code, and suggesting that government direct more of its advertising to local media. Then, rather stunningly I thought, the Staff Report recommends shutting down our pending localism proceeding.
Rather stunnginly, Copps believes that the FCC should approve what events local TV can cover and what music local radio stations can play. That's really wild, what with "Congress shall make no law," and all. Ironically, if Copps succeeded in forcing regional papers to cover only regional topics, the Washington Post would have to stop running vanden Heuvel's thoughtless columns. She lives in New York, after all.
More Reason on Michael Copps, The Nation, and the FCC.