Counterfeit Conviction
Liberty Dollar prosecution
In March a federal court in North Carolina convicted Bernard von NotHaus on three counts related to making and distributing counterfeit coins. Von NotHaus faces a possible sentence of six months to 25 years in federal prison because of the Liberty Dollar, a private currency he launched in 1998. His conviction was based on the premise that a minted round of nearly pure silver that is neither the same size nor denomination as any existing U.S. coin and does not display identical imagery is nonetheless a counterfeit of U.S. currency. In a press release announcing the conviction, U.S. Attorney Anne Tompkins described the Liberty Dollar as a form of "domestic terrorism."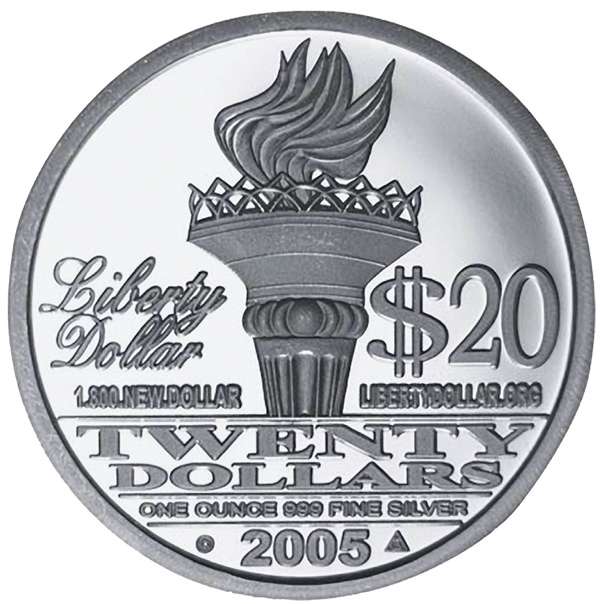 Von NotHaus, who once ran an organization called the National Organization for the Repeal of the Federal Reserve and Internal Revenue Codes, explicitly advertised his silver product as competition to federal fiat money. He called the Liberty Dollar a "voluntary private barter currency," a phrase that appeared on the coins in later mintings.
Von NotHaus' lawyer, Aaron Michel, has filed a motion for a new trial, arguing that "there was insufficient evidence that the Liberty Dollars were counterfeits of United States coins and that Mr. von NotHaus acted with the necessary criminal intent." At press time, U.S. District Judge Richard Vorhees had yet to rule on the motion.
The government also confiscated around $7 million worth of silver, much of it the legal property of von NotHaus' customers. He is involved in a separate legal action to win that property back. A one-ounce Liberty Dollar denominated at $20 back in 2007 would now be worth more than twice as much for the silver.