Congrats to Matt Stone and Trey Parker's Book of Mormon, Which Won Big at the Tonys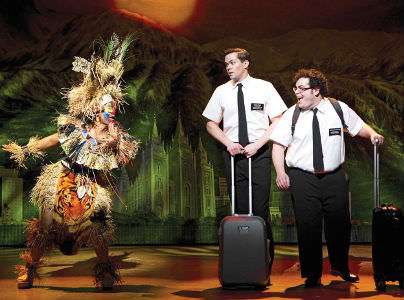 Congrats to South Park's Matt Stone and Trey Parker, whose Book of Mormon (written with Robert Lopez of Avenue Q renown) was the big winner at last night's Tony Awards for Broadway:
At the top of the heap was "Mormon," which has taken Broadway by storm this season. It captured nine awards, including best musical, for its offensive yet good-natured look at two missionaries who arrive in Uganda and get way more than they bargained for, including gun-toting warlords, whole villages infected with HIV and a running gag about maggots in a man's scrotum.

Trey Parker and Matt Stone, creators of the Emmy Award-winning "South Park," collaborated with Robert Lopez, who co-wrote the Tony-winning "Avenue Q." Collecting the best musical prize, Parker said he'd be remiss if he didn't thank his late book co-writer — Joseph Smith, the founder of the Mormon church.

"You did it, Joseph! You got the Tony!" Parker said, looking skyward.
Reason's Kurt Loder and Ron Bailey reviewed the play here and here, respectively.
Stone and Parker gave a great interview to Reason in 2006. Read it here.
They remain that rarest of birds: Artists who are genuinely popular while also consistently challenging and extending their audiences. They are to popular culture what athletes such as Michael Jordan or Babe Ruth were to their sports.