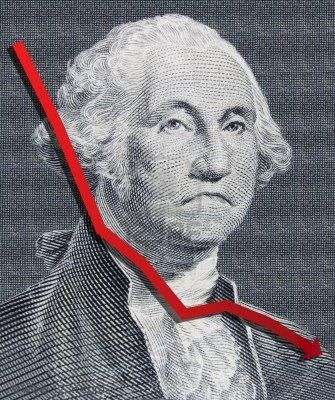 Forget the musical speeches, come down off that post-first-weekend afterglow, and look at the dollar signs: The L.A. Times reports that Parts II and III may not get made after all, following the disappointing response to the Ayn Rand movie:
"Critics, you won," said John Aglialoro, the businessman who spent 18 years and more than $20 million of his own money to make, distribute and market "Atlas Shrugged: Part 1," which covers the first third of Rand's dystopian novel. "I'm having deep second thoughts on why I should do Part 2."

"Atlas Shrugged" was the top-grossing limited release in its opening weekend, generating $1.7 million on 299 screens and earning a respectable $5,640 per screen. But the box office dropped off 47% in the film's second week in release even as "Atlas Shrugged" expanded to 425 screens.

Though the film has made only $3.1 million so far, Aglialoro said he believes he'll recoup his investment after TV, DVD and other ancillary rights are sold. But he is backing off an earlier strategy to expand "Atlas" to 1,000 screens and reconsidering his plans to start production on a second film this fall.

"Why should I put up all of that money if the critics are coming in like lemmings?" said Aglialoro, who is chief executive of the exercise equipment manufacturer Cybex. "I'll make my money back and I'll make a profit, but do I wanna go and do two? Maybe I just wanna see my grandkids and go on strike."
What this means for rights-management is unclear, at least to me.
Reason's Shruggedapalooza here, including Aglialoro in happier times: