RomneyCare: Less Popular Than Ever!
Is the journey of RomneyCare a preview of the road ahead for ObamaCare? Backers of the federal health care overhaul better hope not.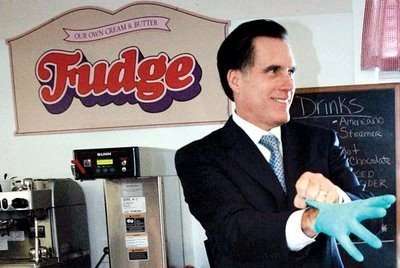 Public support for former GOP Gov. Mitt Romney's Massachusetts health care plan, the model for last year's federal health legislation, has experienced a significant drop in the last few years. The Boston Globe reports on the current state of affairs:
Nearly half of Massachusetts voters are saying the state's landmark health care law isn't working.

That's according to a new poll by Suffolk University and WHDH-TV which found 49 percent of respondents said they didn't feel the 2006 law was helping. Thirty-eight percent said it was working.
As John Graham of the Pacific Research Institute notes, that represents a big drop: RomneyCare passed in 2006 with majority support, and the plan remained quite popular in the years after. In 2008 and 2009, polls showed that more than 65 percent of the public supported the law. Indeed, as I've written previously, the evidence is pretty clear that the political environment in the Bay State has long been amenable to the sort of reforms implemented by RomneyCare and ObamaCare:
According to a 2008 report published in the journal Health Affairs on how public opinion shaped the Massachusetts plan, there was "a favorable political environment" in the state to begin with.

In particular, solid majorities in the state supported the mandates and expansions of government care that are now driving opposition to the national plan. In 2003, for example, majorities supported an employer mandate (76 percent), an individual mandate (56 percent), and an expansion of state-run health programs (82 percent). In 2005, the year the bill was passed in the state legislature, the report notes that 66 percent of the state reported supporting a universal coverage ballot initiative.
So what happened? We can only speculate, but I wouldn't be surprised to find that long wait times, high insurance costs, and ongoing legal and political turmoil had something to do with the drop in support. How great can the state's health plan really be when it runs dramatically over budget, leads the individual health insurance market to temporarily shut down, and forces the state's insurers to operate with losses?
Whatever the particular reason for the recent drop in support, the polling in Massachusetts can't be a good sign for the embattled federal law. The Bay State was arguably the most favorable possible political ground for this sort of reform. ObamaCare, on the other hand, has been unpopular since long before it passed.
Mitt Romney, ever the optimist, is still proud of his tanking state-based plan.