Environmentalist George Monbiot Says Greens Have Been Lying About Nuclear Power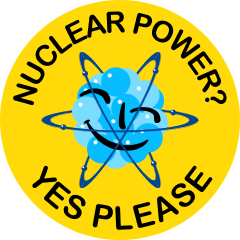 Better late than never, I guess. Guardian columnist and fierce environmentalist George Monbiot has called out anti-nuclear activist Helen Caldicott and her confreres for misleading the world about the alleged dangers of nuclear power. The column speaks for itself:
??Over the last fortnight I've made a deeply troubling discovery. The anti-nuclear movement to which I once belonged has misled the world about the impacts of radiation on human health. The claims we have made are ungrounded in science, unsupportable when challenged, and wildly wrong. We have done other people, and ourselves, a terrible disservice.

I began to see the extent of the problem after a debate last week with Helen Caldicott. Dr Caldicott is the world's foremost anti-nuclear campaigner. She has received 21 honorary degrees and scores of awards, and was nominated for a Nobel peace prize. Like other greens, I was in awe of her. In the debate she made some striking statements about the dangers of radiation. So I did what anyone faced with questionable scientific claims should do: I asked for the sources. Caldicott's response has profoundly shaken me.

First she sent me nine documents: newspaper articles, press releases and an advertisement. None were scientific publications; none contained sources for the claims she had made. But one of the press releases referred to a report by the US National Academy of Sciences, which she urged me to read. I have now done so – all 423 pages. It supports none of the statements I questioned; in fact it strongly contradicts her claims about the health effects of radiation.

I pressed her further and she gave me a series of answers that made my heart sink – in most cases they referred to publications which had little or no scientific standing, which did not support her claims or which contradicted them. (I have posted our correspondence, and my sources, on my website.) I have just read her book Nuclear Power Is Not the Answer. The scarcity of references to scientific papers and the abundance of unsourced claims it contains amaze me.

For the last 25 years anti-nuclear campaigners have been racking up the figures for deaths and diseases caused by the Chernobyl disaster, and parading deformed babies like a medieval circus. They now claim 985,000 people have been killed by Chernobyl, and that it will continue to slaughter people for generations to come. These claims are false.

The UN Scientific Committee on the Effects of Atomic Radiation (Unscear) is the equivalent of the Intergovernmental Panel on Climate Change. Like the IPCC, it calls on the world's leading scientists to assess thousands of papers and produce an overview. Here is what it says about the impacts of Chernobyl.

Of the workers who tried to contain the emergency at Chernobyl, 134 suffered acute radiation syndrome; 28 died soon afterwards. Nineteen others died later, but generally not from diseases associated with radiation. The remaining 87 have suffered other complications, including four cases of solid cancer and two of leukaemia.

In the rest of the population there have been 6,848 cases of thyroid cancer among young children – arising "almost entirely" from the Soviet Union's failure to prevent people from drinking milk contaminated with iodine 131. Otherwise "there has been no persuasive evidence of any other health effect in the general population that can be attributed to radiation exposure". People living in the countries affected today "need not live in fear of serious health consequences from the Chernobyl accident".

Caldicott told me that Unscear's work on Chernobyl is "a total cover-up". Though I have pressed her to explain, she has yet to produce a shred of evidence for this contention.
Monbiot concludes:
We have a duty to base our judgments on the best available information. This is not only because we owe it to other people to represent the issues fairly, but also because we owe it to ourselves not to squander our lives on fairytales. A great wrong has been done by this movement. We must put it right.
Welcome at long last to the reality-based community, George.
Caveat: I do not favor either nuclear socialism or solar socialism. Let's completely eliminate subsidies to all energy production technologies. Nevertheless, Monbiot's whole column is well worth reading.